Artificial Intelligence is one of the most increasingly growing fields, and its scope is constantly expanding across every aspect of life, be it the education sector, healthcare sector, online gaming, e-commerce, or even the financial industry. It's only befitting for developers to get a grasp of this relatively new yet very established branch to accelerate their success.
If you are looking to get ahead in Artificial Intelligence, then you're in luck! We've compiled a list of the top 10 online AI courses available, so you can start learning the skills you need to succeed. So, if you're ready to take your career to the next level, read on to discover the best online AI courses today.
List of Top-Rated Online AI Courses

If you have always had the commitment to excel in the field of artificial intelligence and are looking to give your abilities and career a boost, this online AI course is perfect for you.
Discover the fundamentals of building machine learning models, then utilize them to build AI solutions. There is a guaranteed placement program for working professionals (with up to 5 years of experience) who desire to pursue a career in data science, machine learning, or artificial intelligence. With a thorough learning path, you can study SQL programming, Python, machine learning, and Tableau data visualization.
This program is excellent for students looking for jobs in prestigious firms that require artificial intelligence and machine learning abilities, thanks to its advanced curriculum and teaching style.
Price: Paid
Certificate: Available
Duration: 9 months
Video: LIVE lectures

The Artificial Intelligence Masterclass course is the best option for you if you want to learn how to create the most powerful AI model created to date. This all-inclusive AI toolkit is all you require to quickly and easily pin it down.
You will receive a comprehensive roadmap and a 10-hour step-by-step tutorial in this course to assist you in creating your own hybrid artificial intelligence model from zero. You will discover how to create the strongest hybrid intelligent system and the most efficient artificial intelligence model. So far, this model has been the most advanced AI ever made, outperforming all of its forerunners with astronomically high results in all AI competitions.
You will also get complete implementations for the two AI frameworks, TensorFlow and Keras, in addition to everything else in this online AI course.
Price: Paid
Certificate: Available
Duration: 11.5 hours
Video: On-demand

Whether you're a programmer or not, with this online AI course, you can easily begin your education in artificial intelligence and emerge with outstanding expertise. There are no complex math equations or programming skills necessary; it is available to everyone who is interested in understanding what artificial intelligence is, what it is possible to achieve with it, and how it affects our lives.
The online AI course covers topics including machine learning, neural networks, the ethics and philosophy of artificial intelligence, and applying AI to solve issues. Each session goes deeply into the real-world applications of AI while progressively teaching you about the advantages and disadvantages of our growing reliance on AI.
In this 6-week course, you'll learn mostly through reading the course's elaborate articles, which are accompanied by illustrations. In addition, each article is generally accompanied by one or more activities that you must complete in order to qualify for a free certificate.
Price: Free
Certificate: Available
Duration: 6 weeks
Video: On-demand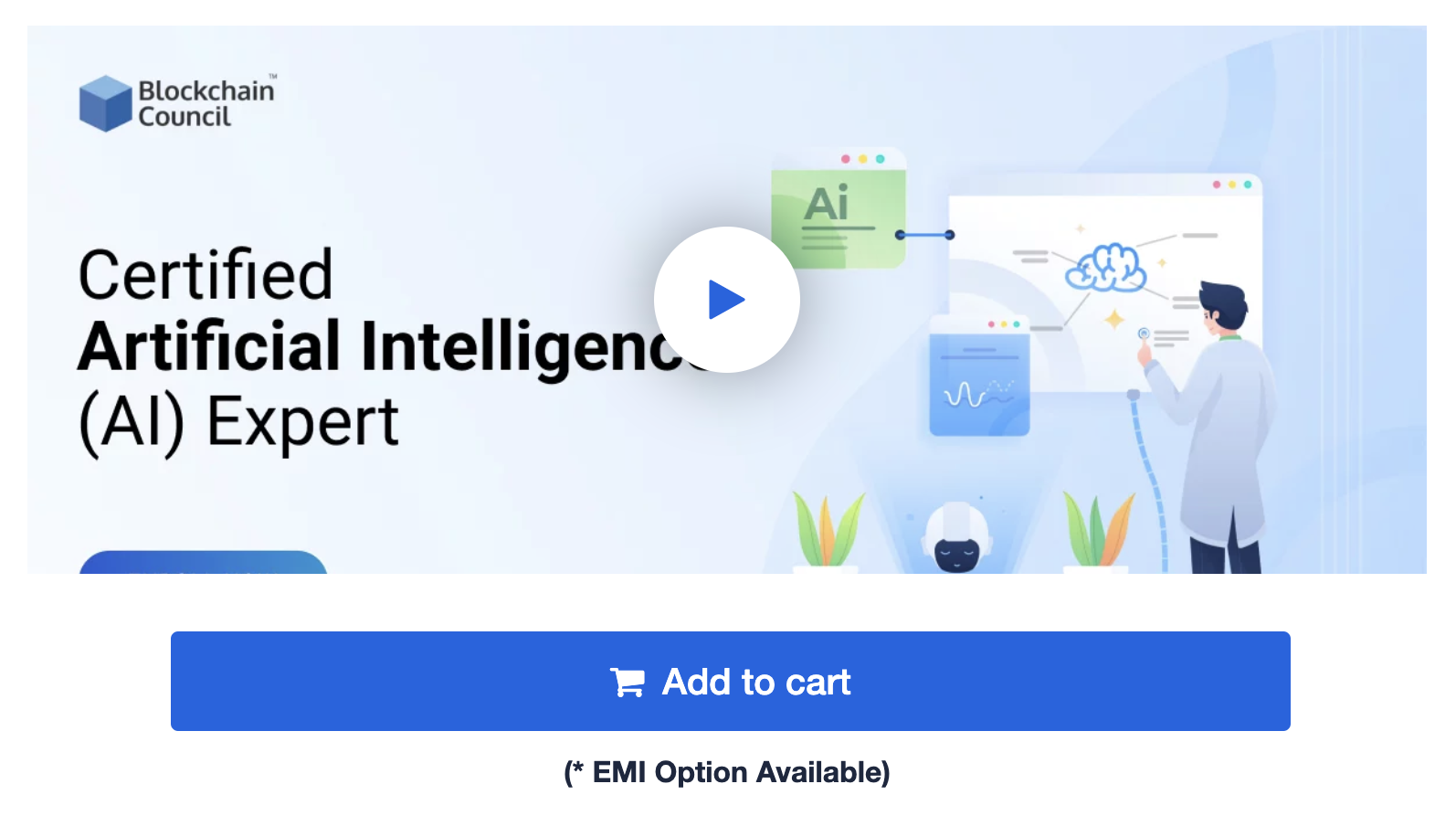 The Certified Artificial Intelligence (AI) Expert certification is a well-thought-out study program for new data science and AI enthusiasts. It aims to provide beginner-friendly training that will introduce you to the fundamental concepts of Artificial Intelligence, such as Statistics, Data Science using Python, Machine Learning, Deep Learning, NLP, and Reinforcement Learning, as well as the operation of regenerative AI, such as ChatGPT.
As the need for AI experts grows, this course will help you get an advantage in the current job market and keep you up to date on the latest advances in the industry. So take advantage of this training, pass a recognized exam, and receive an internationally accepted AI certification.
In addition to that, you'll get lifetime access to the course content and 24*7 support for all your queries. So if you want to set a foundation to kick-start your career in AI, this online AI course is just the option for you.
Price: Paid
Certificate: Available
Duration: 12 hours
Video: On-demand

In partnership with IITM Pravartak, this online Artificial Intelligence course using TensorFlow helps you master Artificial Intelligence and Machine Learning abilities. You will learn about artificial neural networks, supervised and unsupervised learning, logistic regression with a neural network perspective, binary classification, vectorization, Python for scripting Machine Learning applications, and much more as part of this best online AI course.
The primary purpose of this course is to acquaint you with all areas of artificial intelligence so that you may begin your career as an artificial intelligence engineer. This course goes into several disciplines of AI such as Data Science, CNN, perceptron, TensorFlow, Neural Networks, NLP, and others through hands-on projects and transforms you into a well-rounded professional with the essential experience in the field.
In addition to the LIVE training sessions, this course offers you one-on-one doubt resolution sessions along with job assistance so you can land your dream job as soon as you finish the program.
Price: Paid
Certificate: Available
Duration: 7 months
Video: LIVE sessions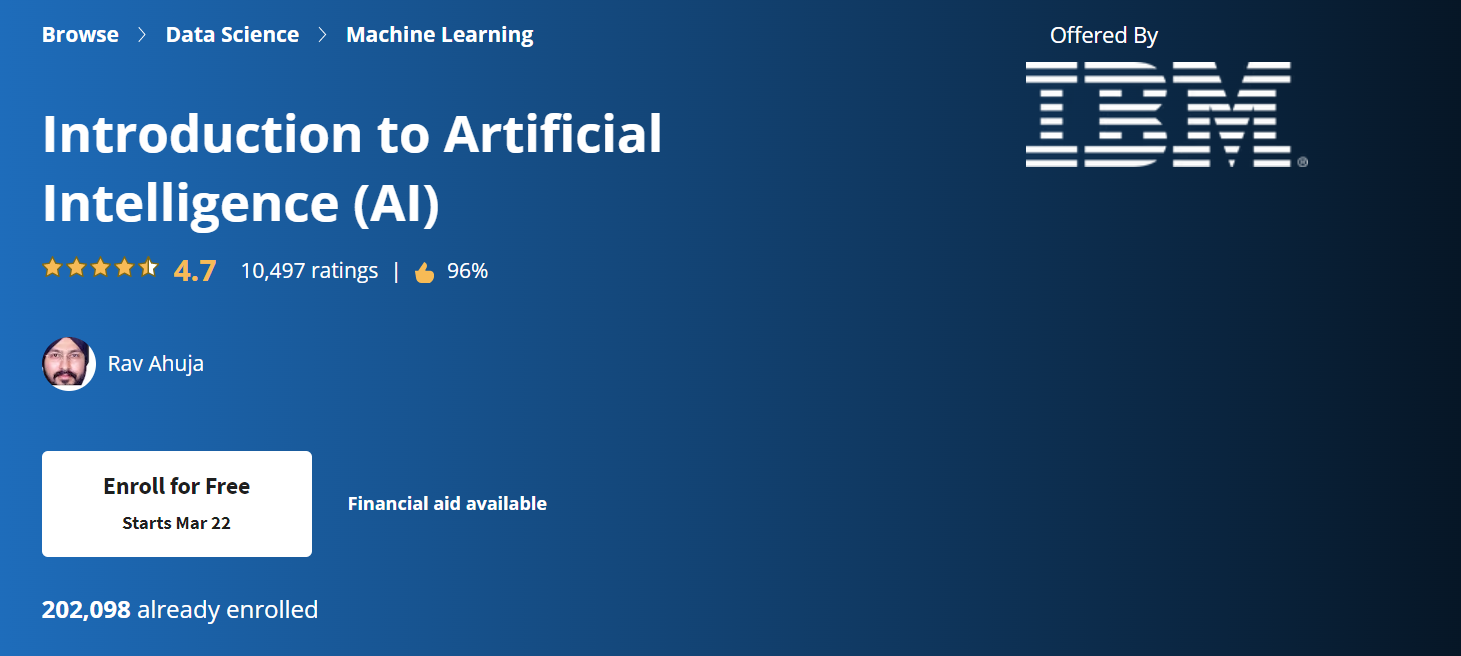 If you're a beginner and are looking for an online course that can easily walk you through the basics of AI and prepare you to specialize further to kick-start a lucrative career in the field, this one is meant for you.
In this course, you will learn what Artificial Intelligence (AI) is, how to utilize it, and how to grasp AI concepts like machine learning, deep learning, and neural networks. In addition, you will be introduced to many challenges and concerns surrounding AI, such as ethics and bias, as well as jobs, and will receive advice from professionals on how to study and begin a career in AI. In the end, you will also use a mini-project to illustrate AI in action.
This course does not require any programming or computer science knowledge and is intended to explain the fundamentals of AI to anybody, regardless of technical background.
Price: Included in Coursera subscription
Certificate: Available
Duration: 9 hours
Video: On-demand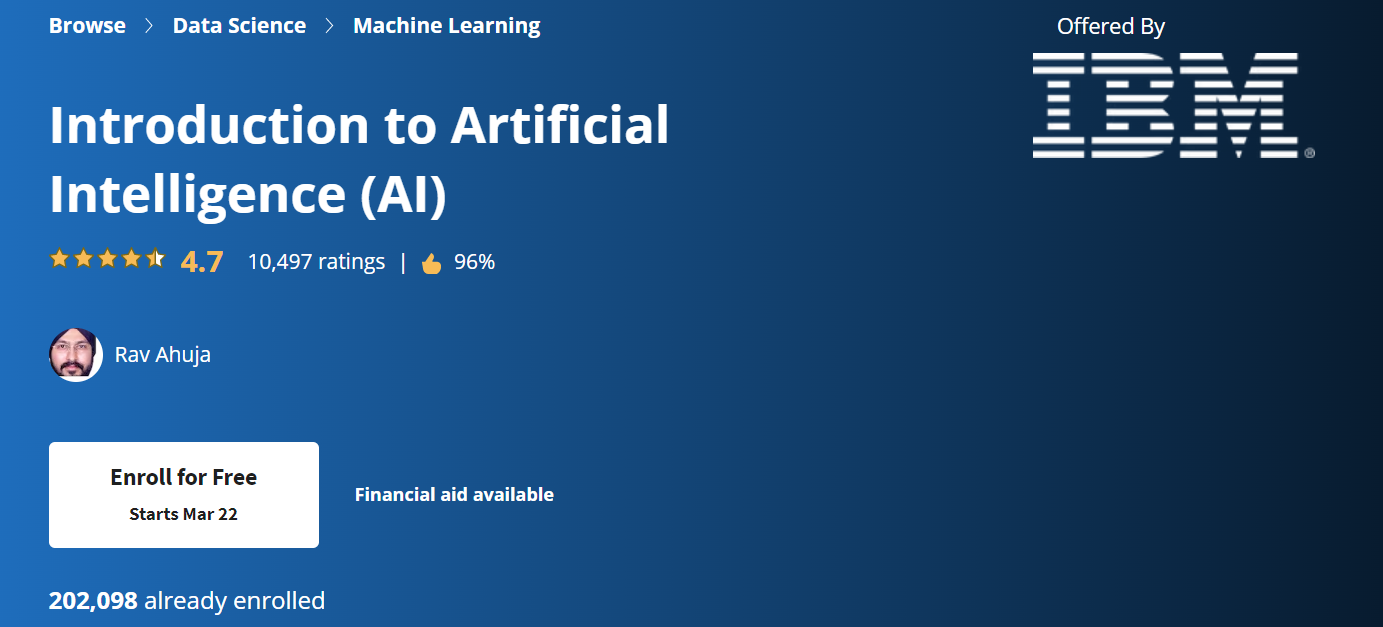 This Professional Certificate will provide you with the knowledge and abilities needed to work as an AI developer. This online AI course will provide you with a solid grasp of AI technology, applications, and use cases. You'll learn everything from machine learning, data science, and natural language processing to picture classification, image processing and IBM Watson AI services, and more.
Regardless of your programming experience, this Professional Certificate will impart you practical Python skills for designing, building and deploying AI applications on the web. The classes will also teach you how to use pre-built AI intelligence for your products and solutions.
Instead of writing complicated AI algorithms and interfaces from scratch, you'll leverage IBM Watson AI services and APIs to build smart apps with minimum code.
Price: Included in Coursera subscription
Certificate: Coursera certificate + Digital Badge from IBM
Duration: 6 months
Video: On-demand

You will be able to start understanding programming basics after finishing this course, which will help you handle significant real-world issues and secure your profession in the future.
The renowned Introduction to Computer Science course from CS50 is combined in this professional certificate program with a fresh curriculum that delves deep into the ideas and algorithms that form the basis of modern artificial intelligence. This course will take you through Harvard's most popular undergraduate course, where you'll learn the fundamentals of programming before building on that knowledge in CS50's Introduction to Artificial Intelligence with Python.
Through practical projects, you will become familiar with the theory underlying graph search algorithms, classification, optimization, reinforcement learning, and other artificial intelligence-related subjects.
Price: Paid
Certificate: Available
Duration: 5 months
Video: On-demand

With this online AI course, you may learn about the concepts and potential applications of artificial intelligence and machine learning. Once you finish this course, you'll be more equipped to make informed decisions in your workplace.
Taught by some renowned experts working in this field for years, this course is divided into 7 modules, exploring the fundamentals of linear algebra and the basics of deep learning and gradually diving deep into understanding computer vision, reinforcement learning, and creating machine learning models with PyTorch.
By the end of this online AI course, you will gain an understanding of how AI and machine learning work and discover how leading companies are using AI and ML and how AI addresses accountability, security, and more.
Price: Included in LinkedIn Learning Subscription
Certificate: Available
Duration: 9+ hours
Video: On-demand

Suppose you're a professional working in the E-commerce industry and wish to leverage the abundant advantages of AI in growing your business. In that case, this is the perfect course for you.
IIT Roorkee and WileyNXT's Post Graduate Certification in AI for Digital Companies & E-commerce focuses on cutting-edge deep learning, artificial intelligence, and machine learning. The course will walk you through the use of AI in areas such as revolutionizing digital and e-commerce businesses, attracting and retaining clients, offering first-rate customer service, and scaling up successfully.
You can get placement assistance through the Post Graduate Certification in AI for Digital Companies & E-commerce course. Also, you will receive 5+ Masterclasses taught by tech experts. 
Price: Paid 
Certificate: Available
Duration: 6 months
Video: On-demand
Conclusion
There are many online AI courses to choose from, but these top 10 online AI Courses are the most comprehensive and well-rounded. They cover a variety of topics, from machine learning to deep learning and everything in between, and provide students with the skills they need to work in the field.
So if you're interested in artificial intelligence and want to get certified in the topic, check out the online AI courses we've highlighted in this blog post. They'll give you a great overview of AI and prepare you to take your career a notch or more up.