Are you tired of losing money on unsuccessful Google ad campaigns?
Or
Are you still wondering how to use Google ad campaigns for marketing?
In June 2022, Google's total visits were 85.2 billion. In April 2022, all search queries conducted on Google were 92.49%. So, your choice to go deeper into Google Ad Campaigns is the right one. However, a successful Google ad campaign needs a strategy. We have the best google ads course to teach you the most effective and powerful techniques.
Begin your journey with Google Ad Campaigns and create Profitable campaigns with the best online courses. Read ahead to find the list of the 10 best google ads courses online.
Best Google Ads Course Online [Free & Paid]

'Google Ads for Beginners 2023' is a beginner course offered by Skillshare. It teaches you exactly how to run super profitable google ads for your clients or your business. This course is perfect for beginners who have just stepped into the world of google ads. It is an actionable course that gives importance to theoretical and practical learning.
This google ads course includes a hands-on project to help the learners feel confident about what they have learned. It allows the individuals to retain what they learn throughout the sessions. The facilitator is open to solving any queries from the participants after the course completion. Get free access to this coursewith a 1-month trial period from Skillshare.
Topics Covered:
What are google ads, and where do they appear?
Google Account Hierarchy
Setting up the first google Ads account
Location Targeting
Setting up Billing
Selecting Biding Strategy according to Budgets
Finding Keywords
Ad Rotation
Ad Schedule
Optimising Ads
Duration – 4 hours 37 minutes
Facilitator – Joshua George
Skill Level – Beginner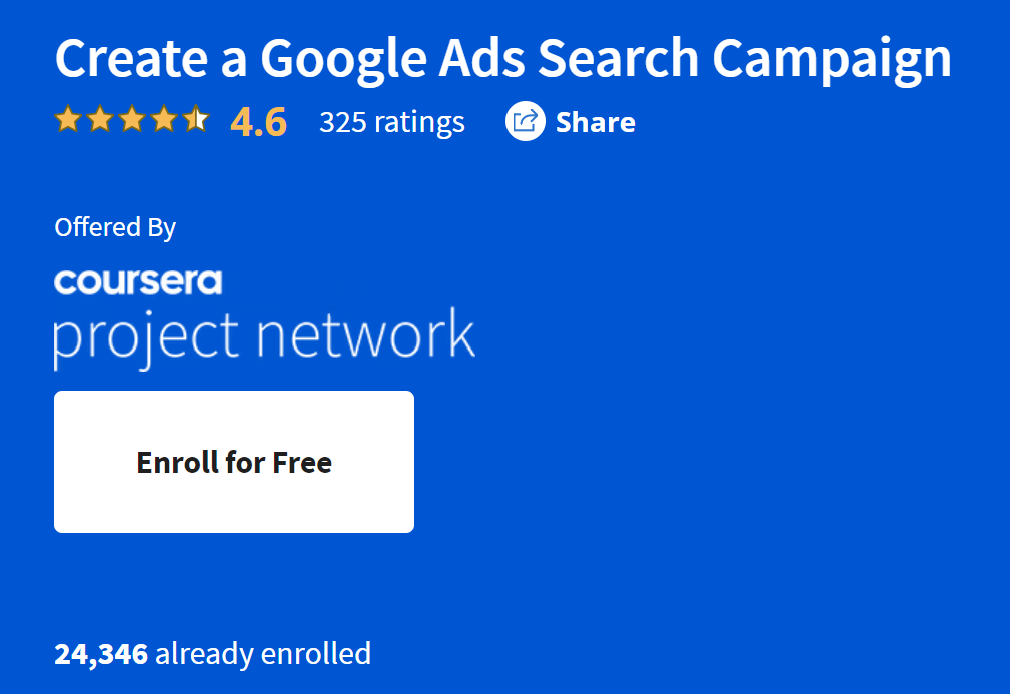 This free guided project offers step-by-step guidance on creating a successful google ads search campaign. Coursera allows every learner to understand google ads better with a split-screen presentation. More than 24,000 students have already benefitted from the course.
This course will develop your digital marketing, online advertising, and google ads abilities. The overall rating of 4.6/5 shows the satisfactory experience of past learners. No prior experience in Google Ads or digital marketing is required to join this course.
Topics Covered:
Fundamental strategic principles of online search marketing campaigns
Creating a structured Google Ads Search Campaign
Designing targeting options, compelling ads, and keyword-matching options
Duration – 2 hours
Facilitator – Angelo Paolillo
Skill Level – Beginner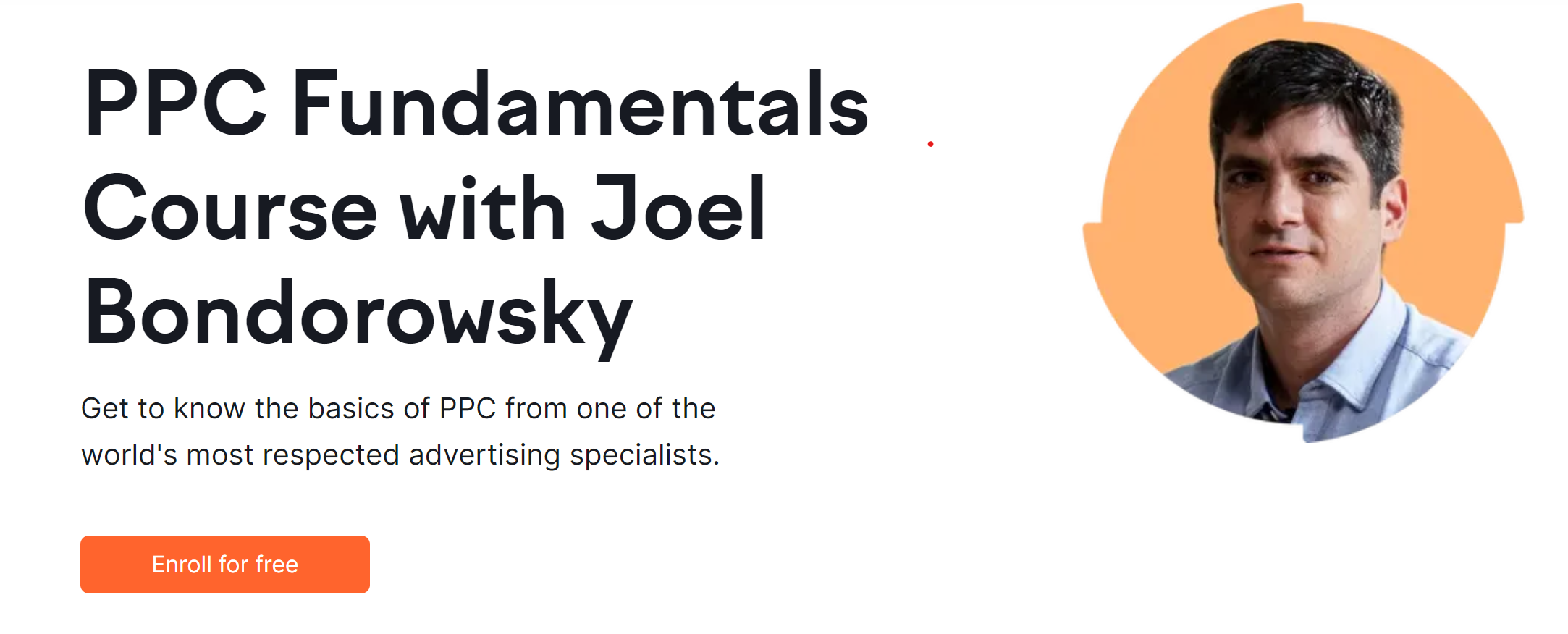 'PPC Fundamentals Course' will save you from losing money while planning a Google Ads campaign. A team of skilled Semrush Professionals with years of experience have designed this course. Semrush Academy is recognized across the globe as the best SEO software suite. The real-life SEO cases in this course enable the learners to get practical exposure to Google Ads.
This Google Ads Course is an amazing opportunity for beginners to gain in-depth knowledge in creating profitable Google Ad Campaigns. This course contains implementable strategies and tips. Upskill your understanding of digital marketing with this free resourceful fundamental course.
Topics Covered:
Campaign Optimization
PPC Strategy
Branded Search Campaigns
Pay Per Click
Using Landing Pages
Value of a Click
Multidimensional Bidding
Multichannel Conversions
Launching your shopping campaigns
Understanding Sales Funnels
Search Campaign Anatomy
Conversion Optimizer
The Role of the Home Page
Duration – 5hours
Facilitator – Joel Bondorowsky
Skill Level – Beginner to Intermediate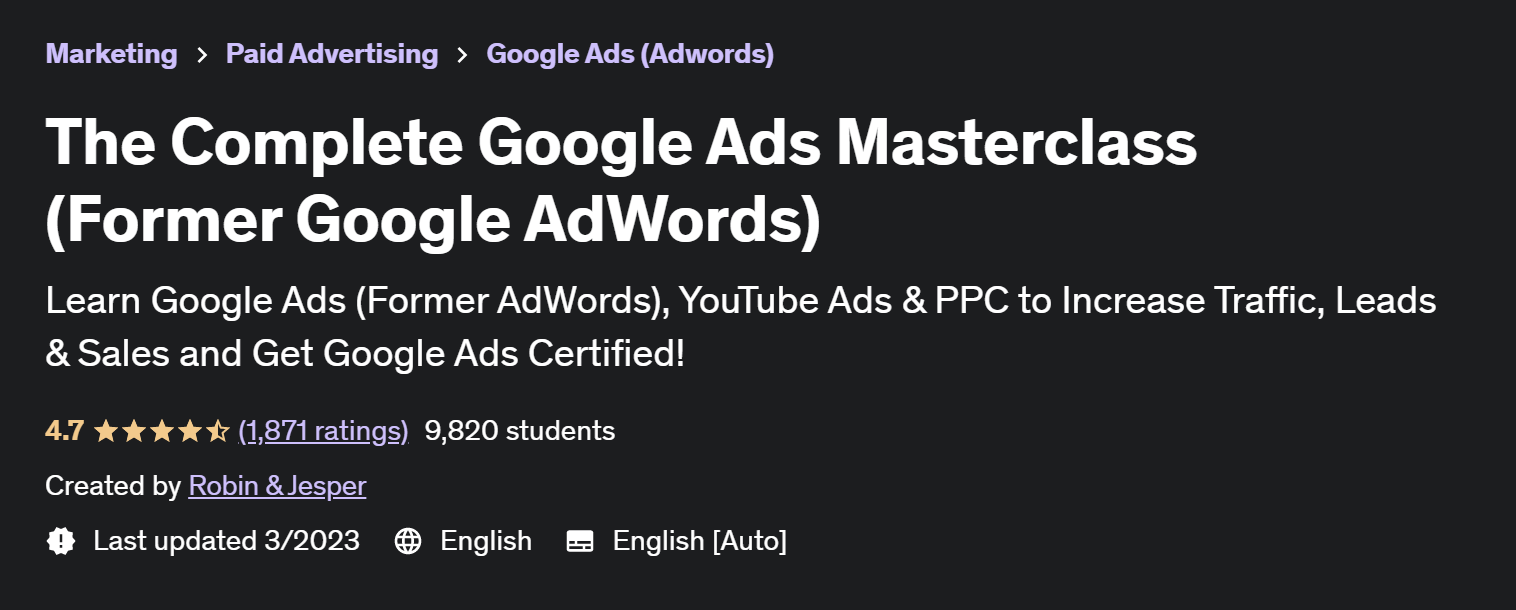 'The Complete Google Ads Master Class' will help you grow your business/career and assist in becoming a Google Ads Freelancer. Along with the video sessions, they also provide 3 articles and 3 downloadable resources to help understand better. Over 9800 students have already joined and given an overall rate of 4.7/5 to the course.
You get lifetime access to this paidgoogle ads course from Udemy. This course will be the best fit for beginners exploring the field of Digital marketing. After attending this course, you can confidently present yourself as a Google Ads Expert.
Topics Covered:
Search Ads, PPC
Drive Traffic
Improve Sales
Split Testing & Sales Psychology
YouTube Ads
Remarketing
Get Leads
Conversion Tracking
Keyword Research
Duration – 16 hours
Facilitator – Robin & Jesper
Skill Level – Beginner to Advanced

Most businesses lose their customers due to poor presentation and curation of Google Ads Campaign. Optimize your Google Ads to attract consistent traffic to your website with this course from Alison. Make the best use of google algorithms that leave a lasting impact throughthis 'Diploma in Google Ads.'
This free diploma course will help you stand out from the crowd and help you advance in your career with a CPD-accredited Diploma Certificate. More than 59,000 learners have already benefited from AdVenture's informative freeonline courses. So begin learning today and pave the path for a successful professional journey ahead.
Topics Covered:
Introduction to Google Ads
Creating the first Google Ads Account
Structuring your Ad Groups
Writing Killer Ads on Google
Diploma in Ultimate Google Ads
Setting up billing
Account Structure
Dynamics of AdWords auction
Duration – 10-15 hours
Facilitator – AdVenture
Skill Level – Beginner to Advanced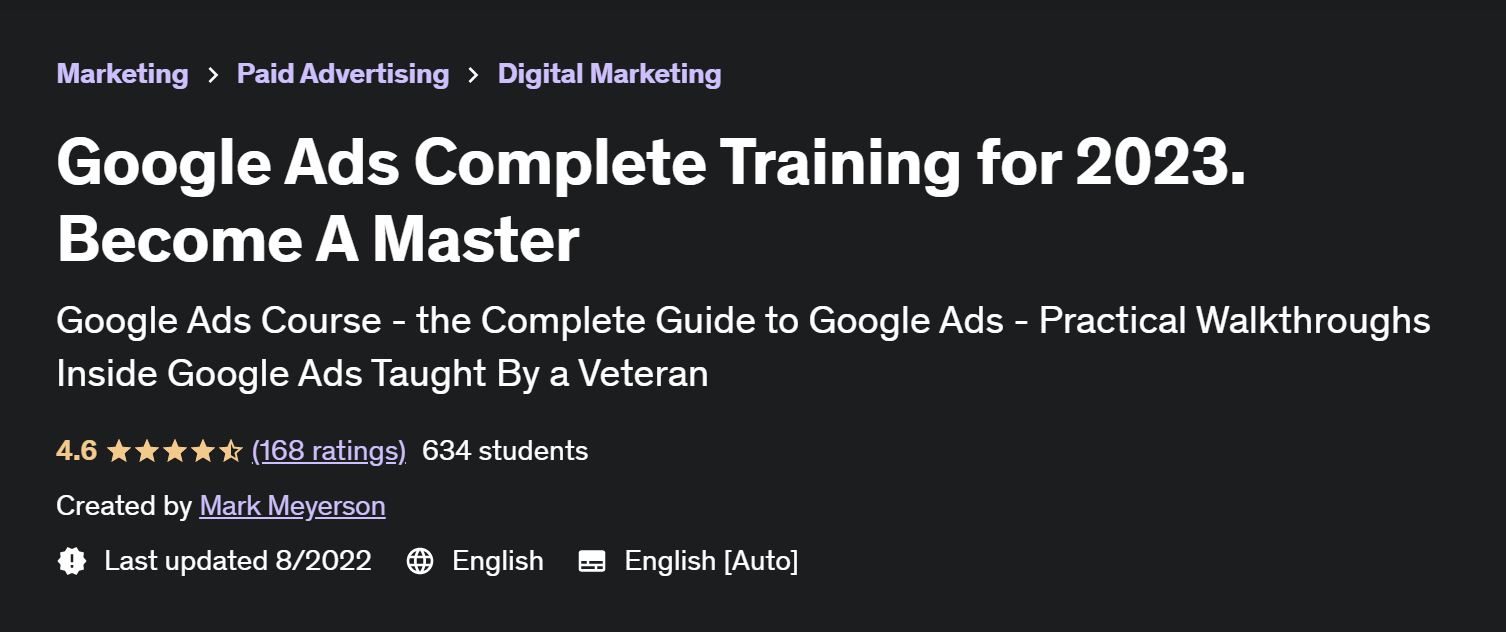 'Google Ads Complete Training for 2023' focuses more on the 'hows' instead of informing about the 'what.' The self-paced videos guide you through the whole process of creating a Google Ad Campaign with technical precision. So if your "how to create the best google ad campaign?" is unanswered, join this paid course.
The facilitator provides multiple free resources throughout the course. It includes calculators, guides, forms, templates, and scripts. Google Ads Beginners and individuals with an experience of 1-3 years will gain benefit from this course.
Topics Covered:
The key Concepts in Google Ad
Research, Strategy & Planning
Campaign Build
Regular Optimizations
Advanced Optimizations
Common Troubleshooting issues
Duration – 4 hours 33 minutes
Facilitator – Mark Meyerson
Skill Level – Beginner to Advanced

Who can teach Google Ads better than Google itself? This freegoogle ads course is once in a lifetime opportunity to learn from the best platform. It is a detailed course focusing on various aspects of creating a marketing campaign. It allows the learner to go ahead at their own pace and gives them a certification on course completion.
Getting Google Ads Certification will add value to your CV and help you stand out. Grow your google ads skill with this helpful course and boost your professional presence.
Topics Covered:
Google Ads Search
Google Ads Display
Google Ads Measurement
Video ads on Google
Shopping Ads
Duration – 1-2 months
Facilitator – Experts from Google
Skill Level – Intermediate to Advanced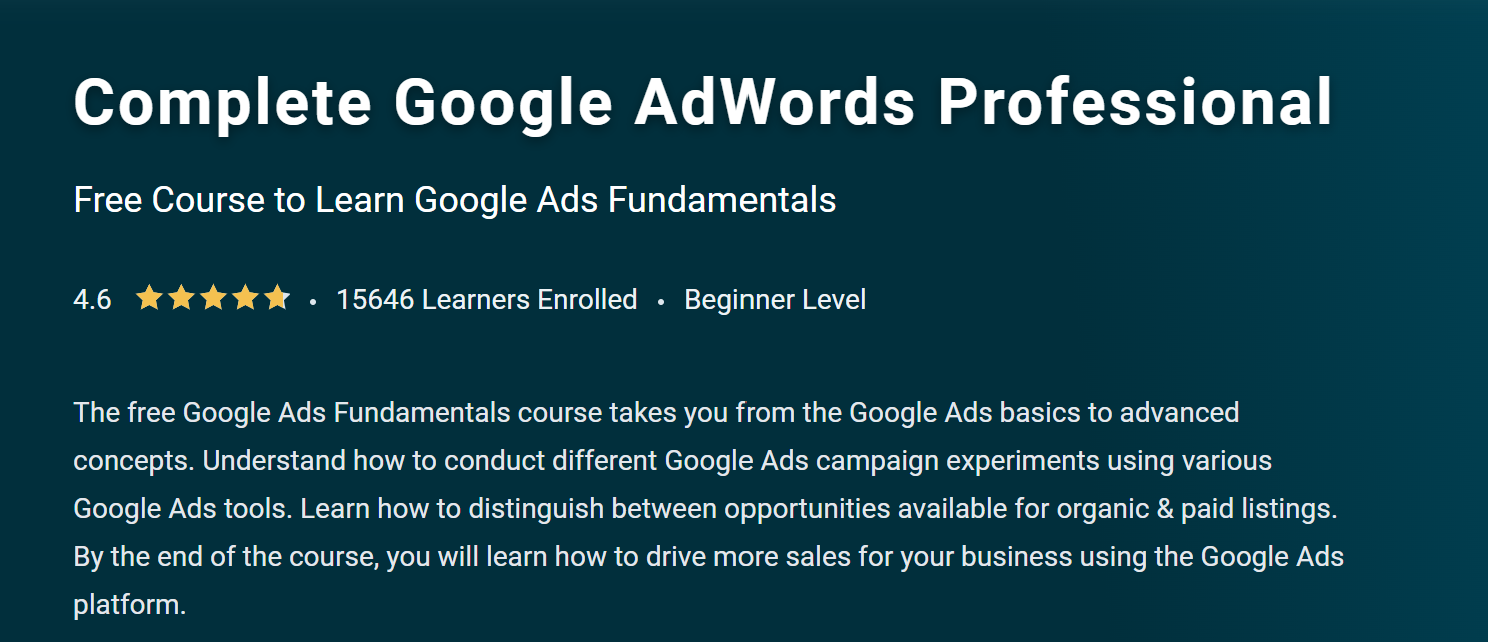 'Complete Google Adwords Professional' is a course for beginners willing to gain expertise in creating google ad campaigns. Industry leaders and mentors with vast experience have designed this course. Considering the needs of different learners, the course design is in a way that is easy to learn.
By the end of the course, you will learn the strategy to drive more traffic to grow your or your client's business. Unfortunately, this free course is accessible for only 90 days. So, be consistent in your learning once you enroll in the course.
Topics Covered:
AdWords
Search ads and extensions
Campaign types and settings
Keywords and match types
Display Targeting
Advertising metrics
Duration – 13 hours
Facilitator – SkillUp
Skill Level – Beginner to Intermediate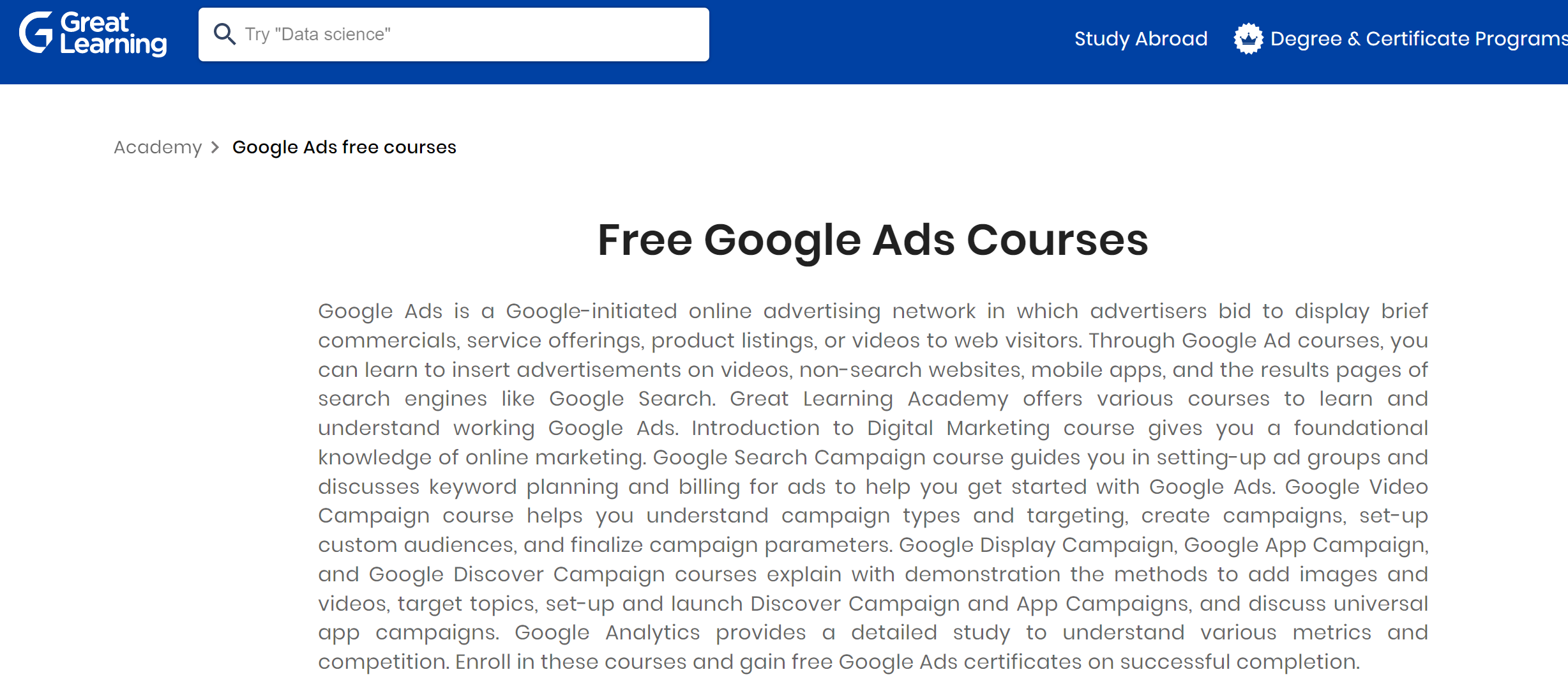 The Great Learning Academy provides 7 mini-courses to cover the whole topic of Google Ads. Each brief course focuses on the crucial concepts of creating successful marketing campaigns to drive more traffic. Thousands of students have already gained the benefits of this course.
Great Learning Academy issues a Certificate to every learner on successful completion. This upskilling program will accelerate your growth on the professional front. Enroll for the free google ads course collection and learn through 7 detailed courses online.
Topics Covered:
Introduction to Digital Marketing
Google Search Campaign
Google Video Campaign
Display Campaign
App Campaign
Discovery Campaign
Analytics
Duration – 10 hours
Facilitator – Industry Experts
Skill Level – Beginner to Intermediate

Advanced Google Ads is a google ads course with self-paced videos, quizzes, and a hands-on project. Prior understanding of digital marketing and google ads is necessary to join this course. Your LinkedIn profile will display the certificate of completion.
Individuals who have mastered the fundamentals of google ads and are willing to dive deeper into the concept can join this course. In addition, professionals working as digital marketers will get the much-needed upgradation in their skills through this online course. You can access this course for free in the 1-month free trial period.
Topics Covered:
Google Ads Strategy
Optimizing Google Ads Account Performance
Tips for Working Efficiently with Google Ads
Using Automation in Google Ads
Tracking Campaign Performance
Other Google Channels
Duration – 1 hour 12 minutes
Facilitator – Michael Taylor
Skill Level – Advanced
Learn Marketing that Makes an Impact!
Many companies and advertising agencies use Google Ads Campaigns. But are they all getting the desired results? Unfortunately, most of them keep repeating the same mistakes and never make their way to profitable campaigns.
You don't want to be one of them, right?
Especially when you have access to the above list of courses.
Suppose you are a marketing professional, and without any delay, signup for a suitable course from the list and enhance your CV. On the other hand, if you are a business owner, this is the best opportunity to win over your customers from the competitors.
Make this list of Google ads course a stepping stone for your successful future.
Frequently Asked Questions
Are Google Ads Courses Free?
Yes, many free Google ads courses and paid courses are available online. This list above contains a combination of best-paid and free courses.
Can Google Ads Certification Get You a Job?
Yes, Google Ads Certification can get you a job. If you have gained proper knowledge and understanding of creating successful campaigns, it can help you in getting wonderful professional opportunities.
Is Google Ads Certification Easy?
Google ads certification is easy if you are dedicated and consistent enough in learning through the online course. Learn from the best instructors through online classes and make yourself an expert in google ads.