Adobe InDesign is a publishing and page layout designing software developed by Adobe Inc. and was released in 1999. It is widely used to create brochures, magazines, newspapers, posters, flyers, presentations, books, and eBooks. In addition, it is used to publish content in conjunction with Adobe Digital Publishing Suite for various devices.
It is comprehensive software and is especially helpful for graphic designers and production artists. The software is available for Windows and macOS operating systems in 24 languages.
InDesign is an extensive software developed mainly for the presentation of different work and for creating templates. It is the industry standard editing software for developing long-form multipage documents. It has various features, including creating frames and shapes, aligning objects with grids and guides, manipulating objects, organizing things, importing and formatting texts, spell checking, importing images, and master pages.
This software compiles information and presents it professionally. This is a crucial software skill for beginners in print and digital publications. Learning InDesign is a simple linear learning curve that does not require much technical knowledge. It is an intuitive program that needs an eye for composition to create exciting content formats.
Following is a list of InDesign courses that can help any beginner understand the software's fundamentals.
InDesign is one of the most in-demand publishing tools in today's industry. David Blanter, who is an expert designer and one of the co-founders of InDesign Magazine and Creative Pro Network, teaches this course. The course demystifies complex and technical concepts of the software for any beginner to understand.
According to LinkedIn, the course is a beginner-level course with a total run time of 5 hours. The course teaches the basics of the software, including making multi-page documents, learning about text frames and graphics, manipulating pages, importing texts, changing color and transparency, managing layers, making tables, and so on.
At the end of the course, a certificate of completion is provided that can be added to the resume to add to one's skill tree.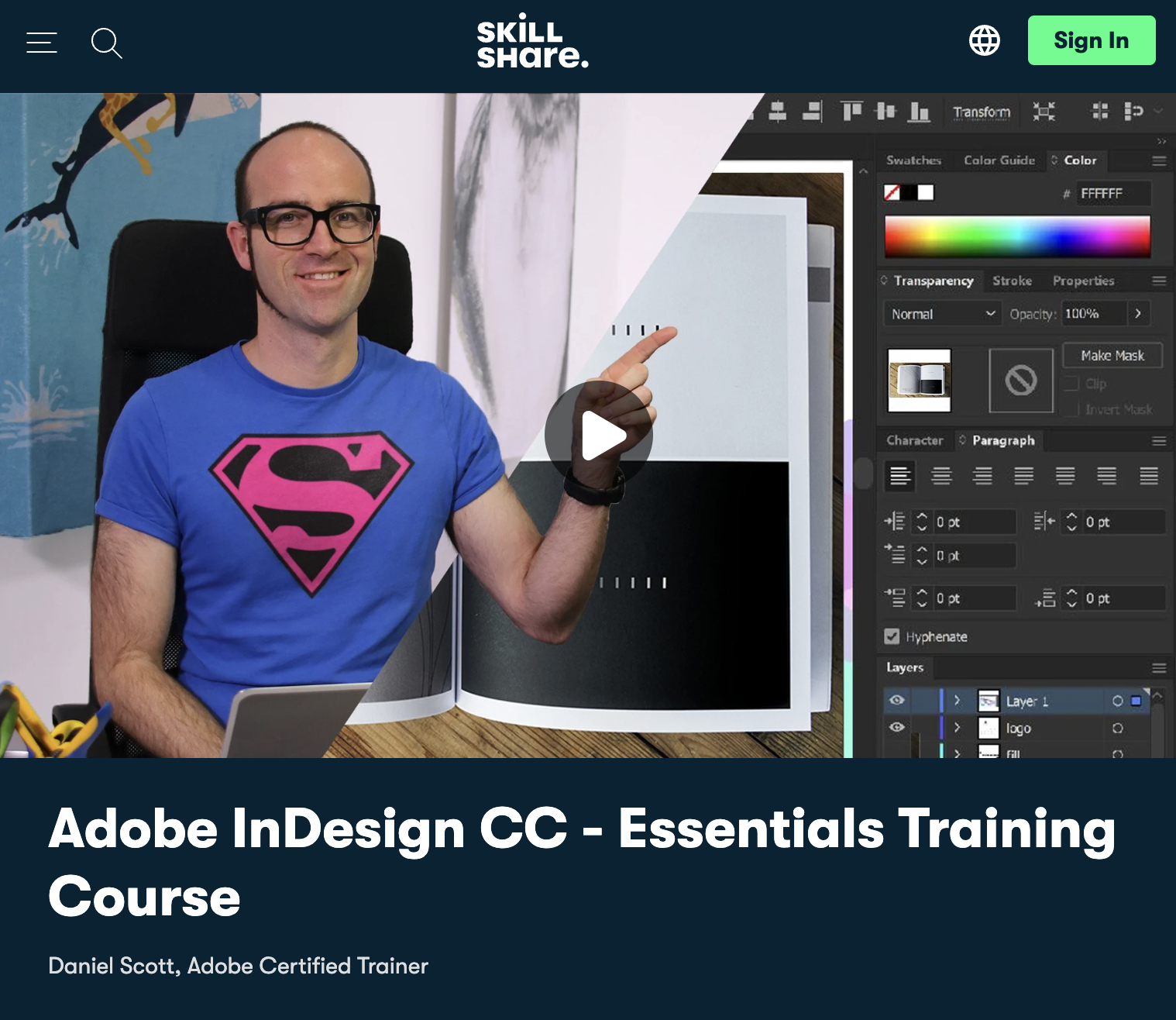 This course helps a beginner understand the different choices related to texts, layouts, and images within the software. The instructor Daniel Scott is an adobe certified graphic designer and has an experience of more than 15 years.
The course has a total of 6 hours and 47 minutes runtime. The course comprises many principles required to design elegant publications, choose personal and corporate colors, use fonts, manipulate images in multiple ways, color backgrounds, resize, rotate, RGB, and many more.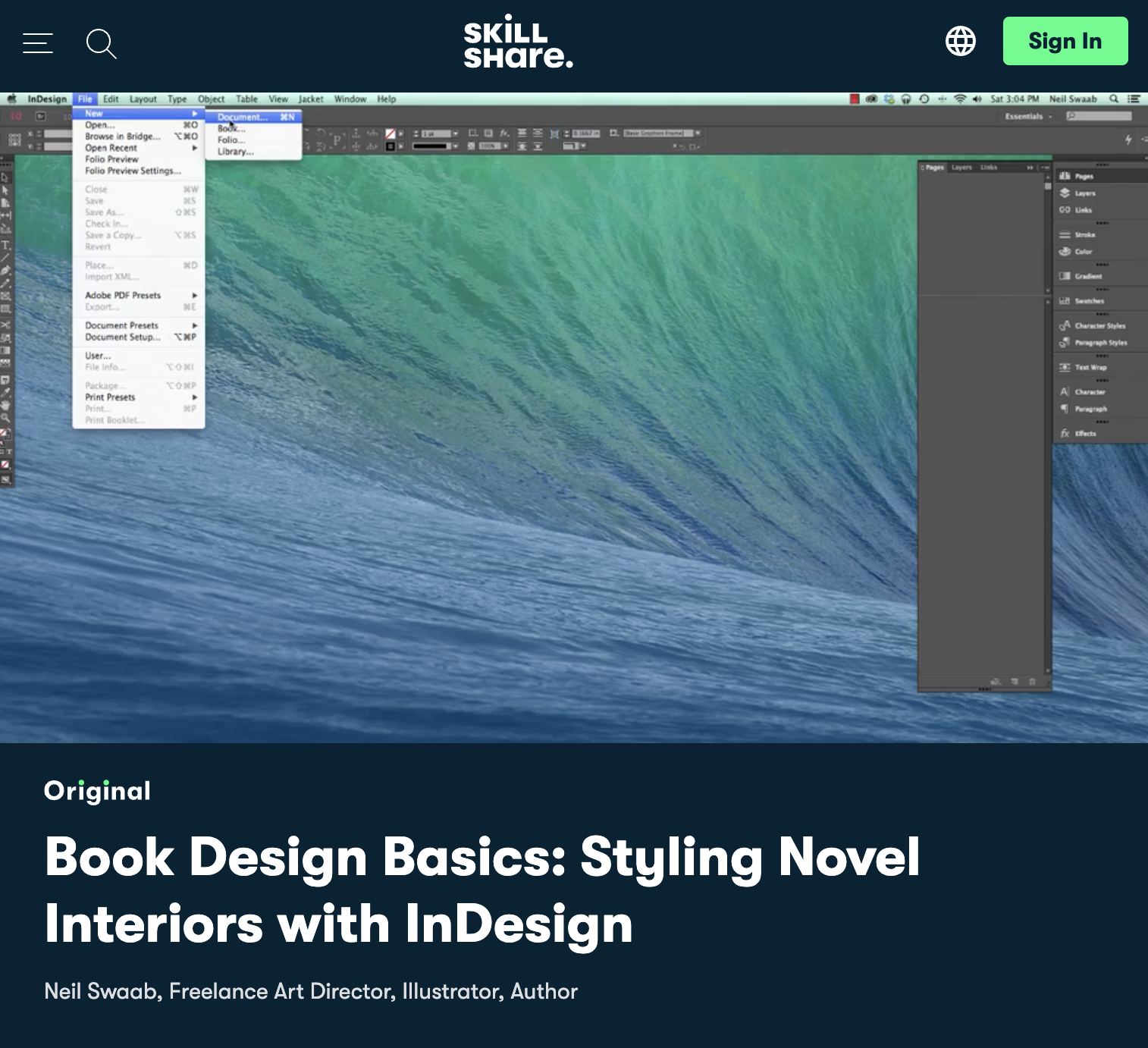 This is an intermediate-level course and provides a detailed understanding of designing the interiors of a novel or book sequentially. The course has a run time of 1 hour 30 minutes and teaches about the philosophy and vocabulary of book design.
It also gives detailed information about critical settings, style conventions, type choices, master pages, sections, exporting, pagers, headers, and so on. The course is taught by Neil Swaab, a freelance illustrator and book designer. He has worked with notable clients like Google and Harper Collins and is recognized by the Society of Illustrators and American Illustration.

This beginner-level online course teaches all the features and principles of Adobe InDesign, helping a beginner start working professionally. This course even covers some of the advanced InDesign tools which can help improve a project's workflow.
The course has 11 videos and comprises many key InDesign concepts and skills. These include working with text frames, manipulating images, setting up master pages, formatting texts, exporting projects, and so on. It is a comprehensive course and clarifies all the basics of working with InDesign CC.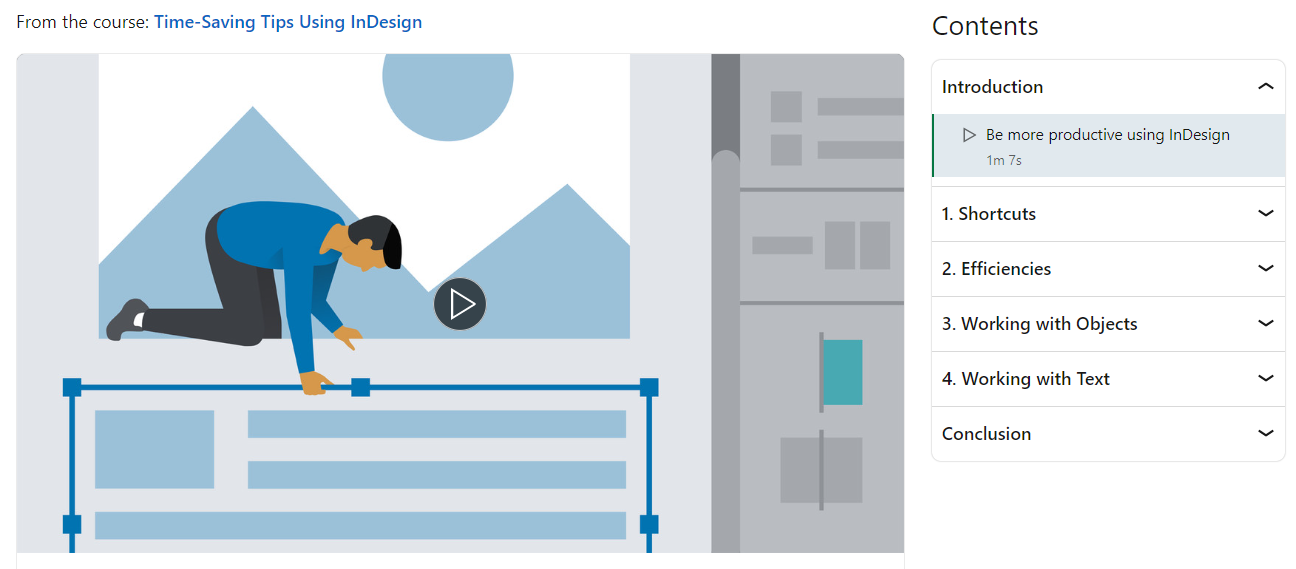 Learning an efficient workflow to save project time is crucial in this field. This online course teaches all the methods and shortcuts required for the same. The course has a runtime of 2 hours and 30 minutes. It will teach you several tips and tricks to reduce the time spent doing repetitive tasks in InDesign. These include keyboard and tool shortcuts, stroke and fill option keys, using Gridify, frame fitting options, quick apply, and many more.
Chad Chelius, who was an Adobe Certified Instructor, teaches the course. He has an experience of more than 20 yearswith Adobe products.
At the end of the course, you will get a completion certificate and a chance to work on a project related to what you have learned throughout the course.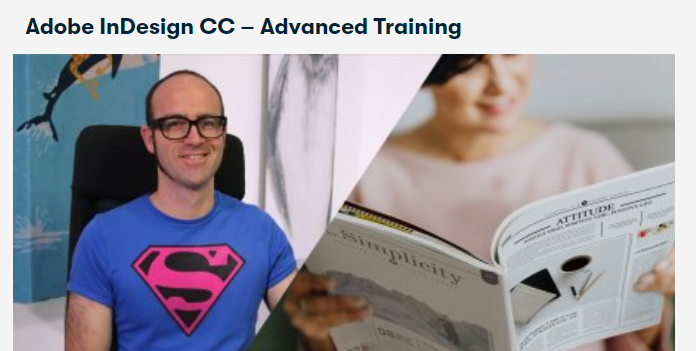 This is an extension to the essentials course provided by Daniel Scott. This is a helpful course for people who want an extensive skill set in InDesign to improve their workflow and productivity.
This course has 8 hours and 11 minutes and has 73 video lessons. It covers advanced concepts like master styles, advanced fonts, interactive documents, advanced CC features, exporting, prepress, printing tricks, workflow tactics, and many more to help anyone master the software.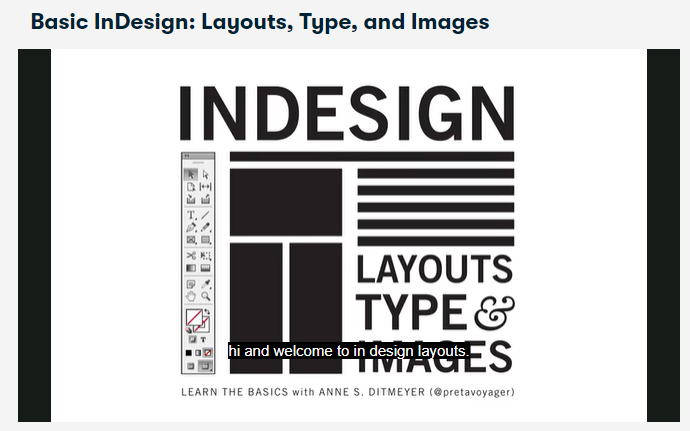 This course introduces you to the basics of InDesign by examining the various design principles utilizing the three core features of InDesign – layouts, types, and images. Anne Ditmeyer, who has also provided five other courses on Skillshare, guides this course.
The course consists of 12 lessons spread over 2 hours. First, it teaches about the fundamentals of working with layouts, types, and images in InDesign. Then, it deals with topics like the basic setup of a document, inserting images, setting up master pages, and using paragraph and character styles.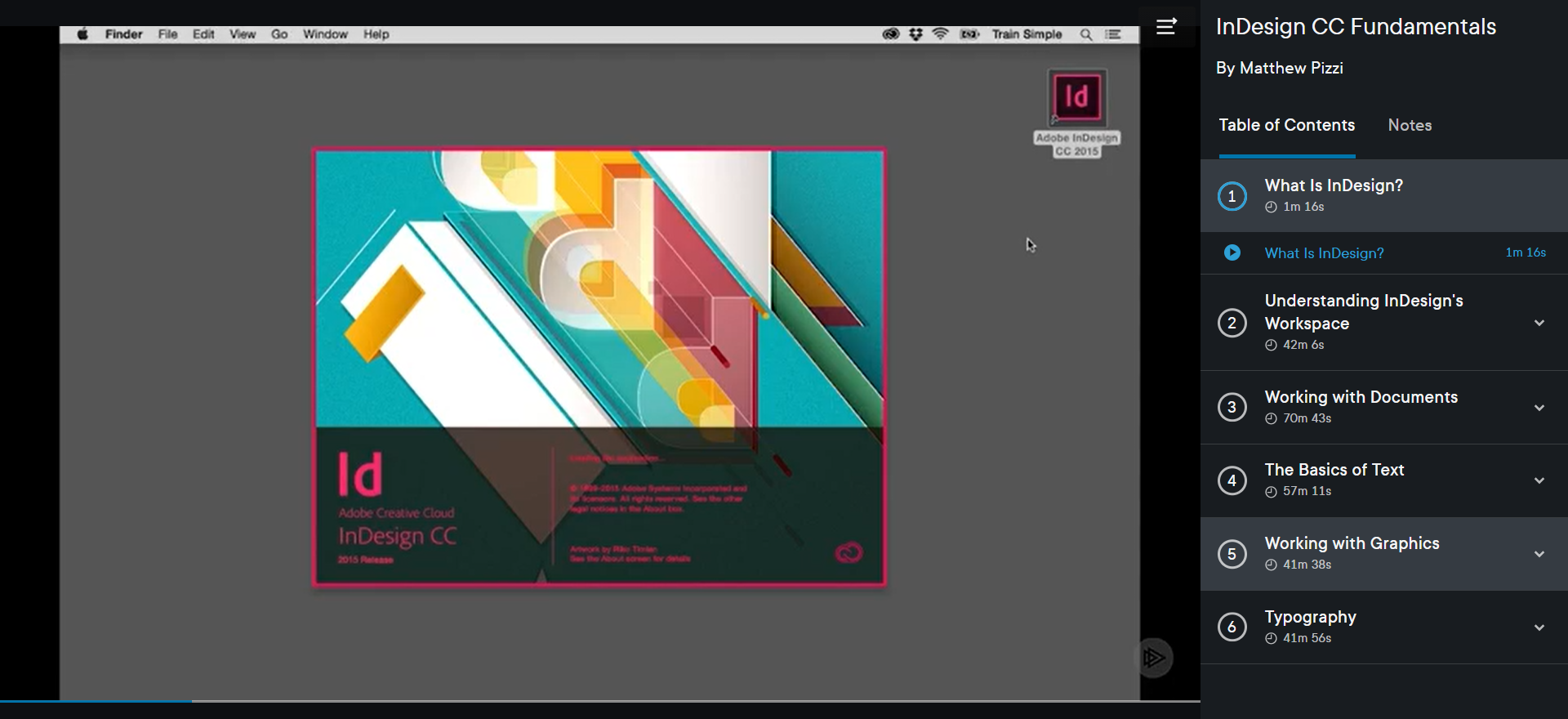 Matthew Pizzi teaches this course. He is an Adobe Certified Trainer with almost 15+ years'  of experience as a designer. The course has a runtime of 4 hours and 15 minutes. It takes a progressive approach and begins with familiarizing you with the workspace and interface of the software.
It goes on to teach fundamentals like ruler guides and page tools, formatting texts to make them look elegant, putting up graphics, and understanding how they interact with each other.

Instructors at MKCL India teach this course. First, it teaches about designing a brochure. A brochure is made of folding paper containing information about a specific topic. It has a rating of 4.2 stars on Udemy.
Learning about making a brochure can also help design posters, flyers, magazines, newspapers, etc. This course helps to understand the physical aspects of printing and publications.

This course starts with the basics of the software and teaches in-depth about the workspace of the software. It takes an in-depth dive into layout, frames, drawings, texts, character formats, paragraphs, and so on.
At the end of the course, one will learn about all the fundamentals of InDesign. The course is simplified for everyone to understand. It takes a systematic approach and consists of 105 lectures, with a run time of 11 hours. It is an extensive course helpful for all beginners.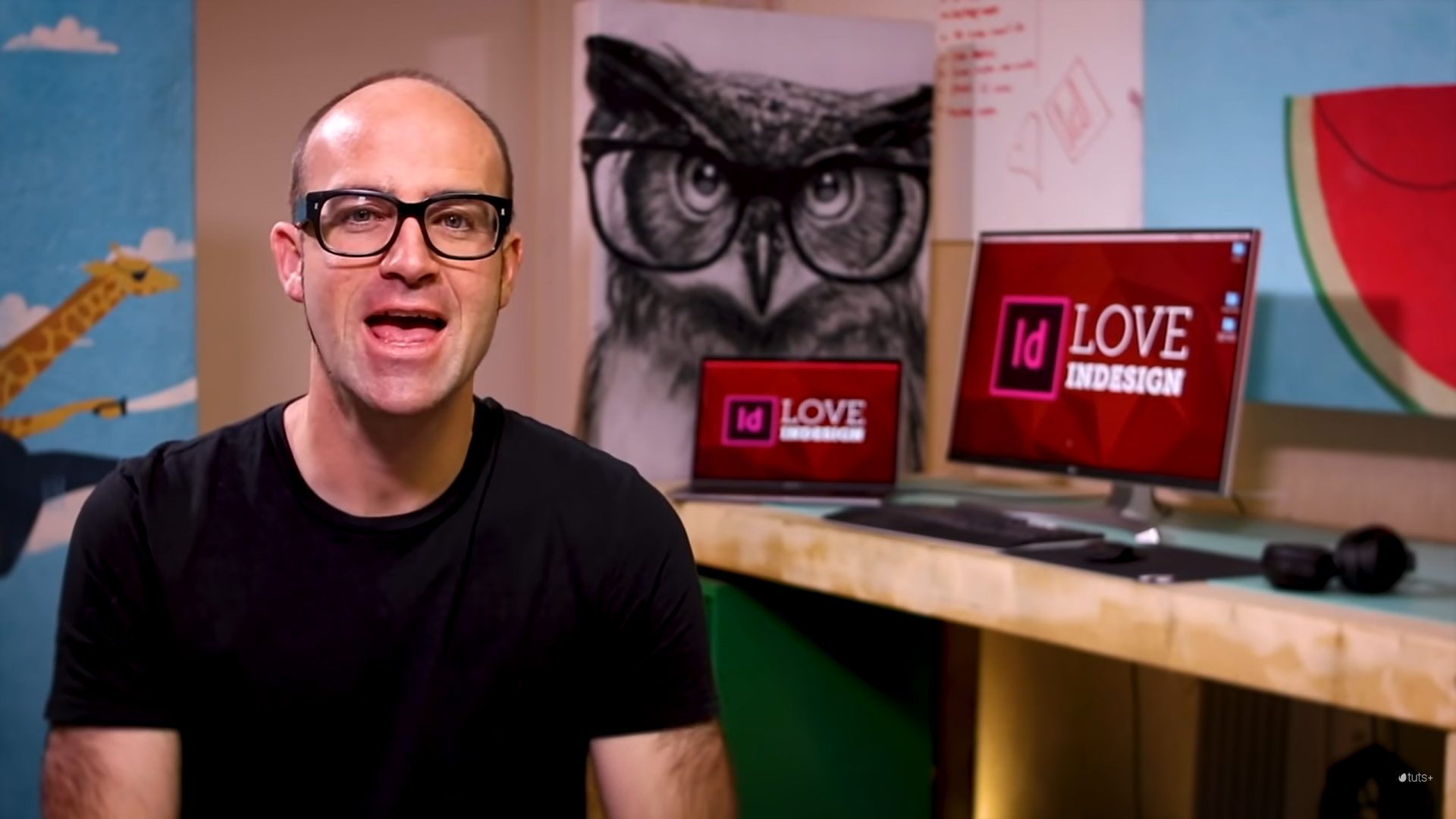 This course is for absolute beginners and does not require any prior knowledge of the software. The course gives practical examples and tasks simultaneously, helping you to practice.
At the end of the course, you can design a four-page brochure, learning the tools and techniques necessary to create and print it professionally. You will also learn to work with color and use corporate colors.

This course is suitable for beginners as it is in a playlist format, which is much easier to grasp. In addition, the course takes a progressive learning method, from setting up a document to undertaking various graphical functions.
It is a slow-paced go-at-your-speed course, which is helpful for most beginners. It even talks about paper and document sizes widely used in the industry.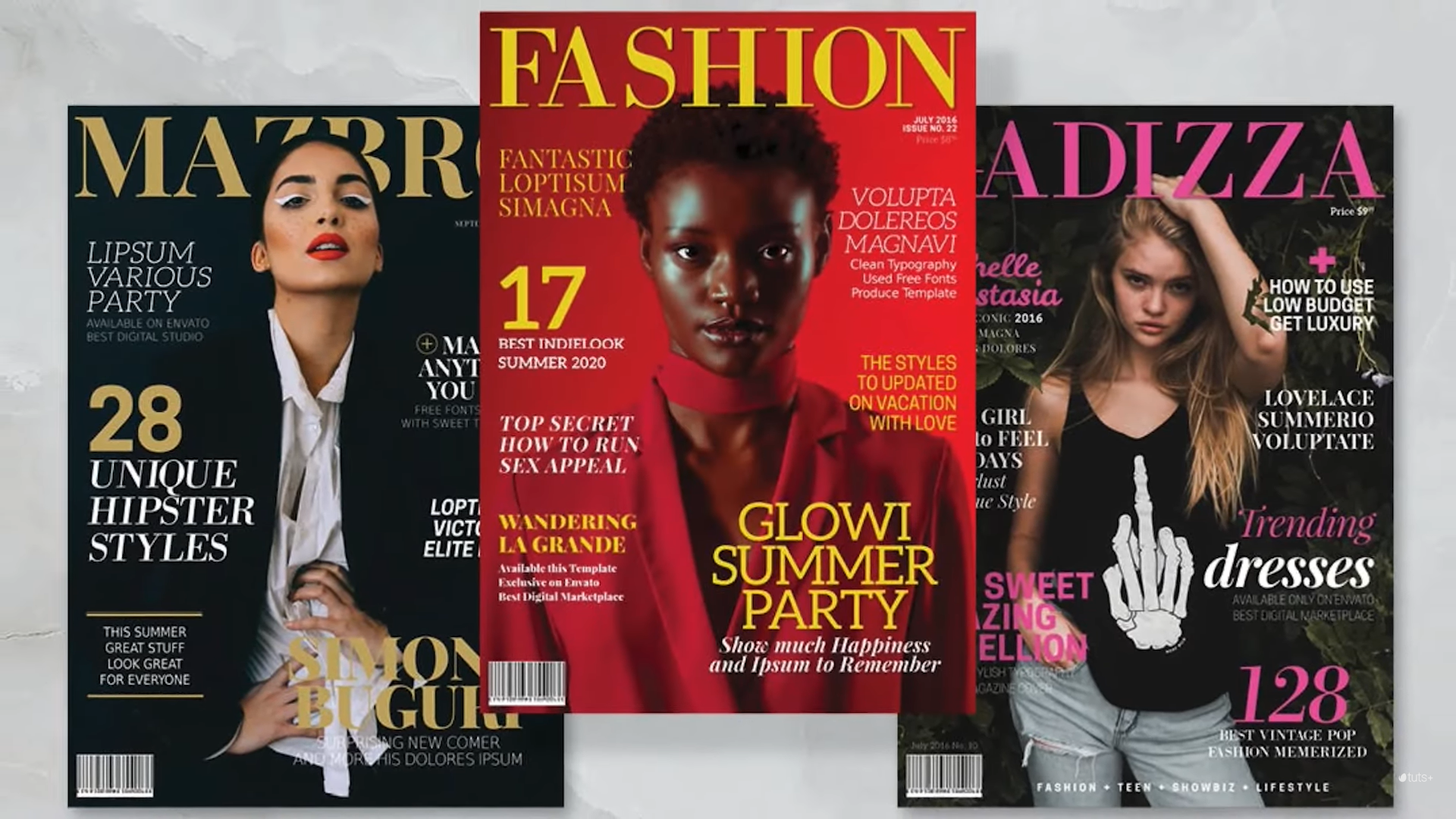 Laura Keung teaches this course in collaboration with Envato Tuts. It has a run time of 56 minutes and covers all the fundamentals of InDesign using the example of a magazine cover. The most important aspect of magazine design is creating an eye-catching cover.
The course covers the anatomy of a magazine cover and how templates are used to get faster results. Beginners will get the experience of designing fashion and sports magazines from the beginning to end.

This course is structured into three main sections – Preparation, Implementation, and Finalization. It consists of 13 videoscovering topics such as setting up a document, understanding the program's working, using texts, preparing and importing images, and exporting the document into a printable format.
It is a well-structured video series and is helpful for beginners. This course covers the basics of the software and explores several tools and techniques beneficial to kickstart one's InDesign journey.

This course consists of 14 episodes and takes a deep dive into the details of InDesign. It teaches beginners about workflow and how it can improve their designs using various principles.
The course is in a playlist format, and you may choose any place to start depending on your prior knowledge of the software.
Conclusion
InDesign is a leading software in the industry. It is a convenient software that helps create powerful formats for magazines, newsprints, books, and other publications. It is connected to Adobe Suite, which makes it easy to interlink with other Adobe software.
InDesign is a great skill that can be added to any resume to enter the world of design and publications. Good learning about InDesign can improve one's presentation skills. This is particularly helpful in creating storylines and presenting them in an interesting format.
A good hand in InDesign will give you an edge in the industry and will help them progress further in your career. All the above courses have a common underlying feature. It provides a good understanding of composition, which is a helpful skill in the world of visual design. Therefore, learning InDesign in 2023 is a great choice for any beginner.