Watercolor painting is a beautiful, versatile medium that has captivated artists for centuries. It allows artists to create various effects, from soft washes of color to bold, expressive strokes. With the rise of online education, watercolor enthusiasts can learn from some of the world's best artists without leaving their homes.
In this blog post, we'll explore 10 of the best free online watercolor classes and courses available in 2023.
Whether you're a beginner, just starting, or an experienced painter looking to improve your skills, these courses offer something for everyone. From the basics of color theory and composition to advanced techniques like wet-on-wet painting and layering, these courses will help you take your watercolor painting to the next level.
So grab your brushes and paints, and let's dive in!
List of Free Online Watercolor Courses & Classes
Below are the top ten free watercolor courses to learn and master the skill of painting and blending.
This excellent Skillshare course by artist Geethu Chandramohan will teach you how to paint with watercolors. During this watercolor art course, she teaches you everything from how to use your paints to how to master color theory.
After completing this course, you'll have the knowledge and confidence to create your own color palettes from scratch. This course will provide valuable tips even if you already have watercolor knowledge.
The most valuable aspect of this training is that it gives you an understanding of basic color theory, allowing you to make the most of your paints and resources. It's a good fit for artists of any skill level.
There are 25 lessons in the course, and they can be completed in under two hours.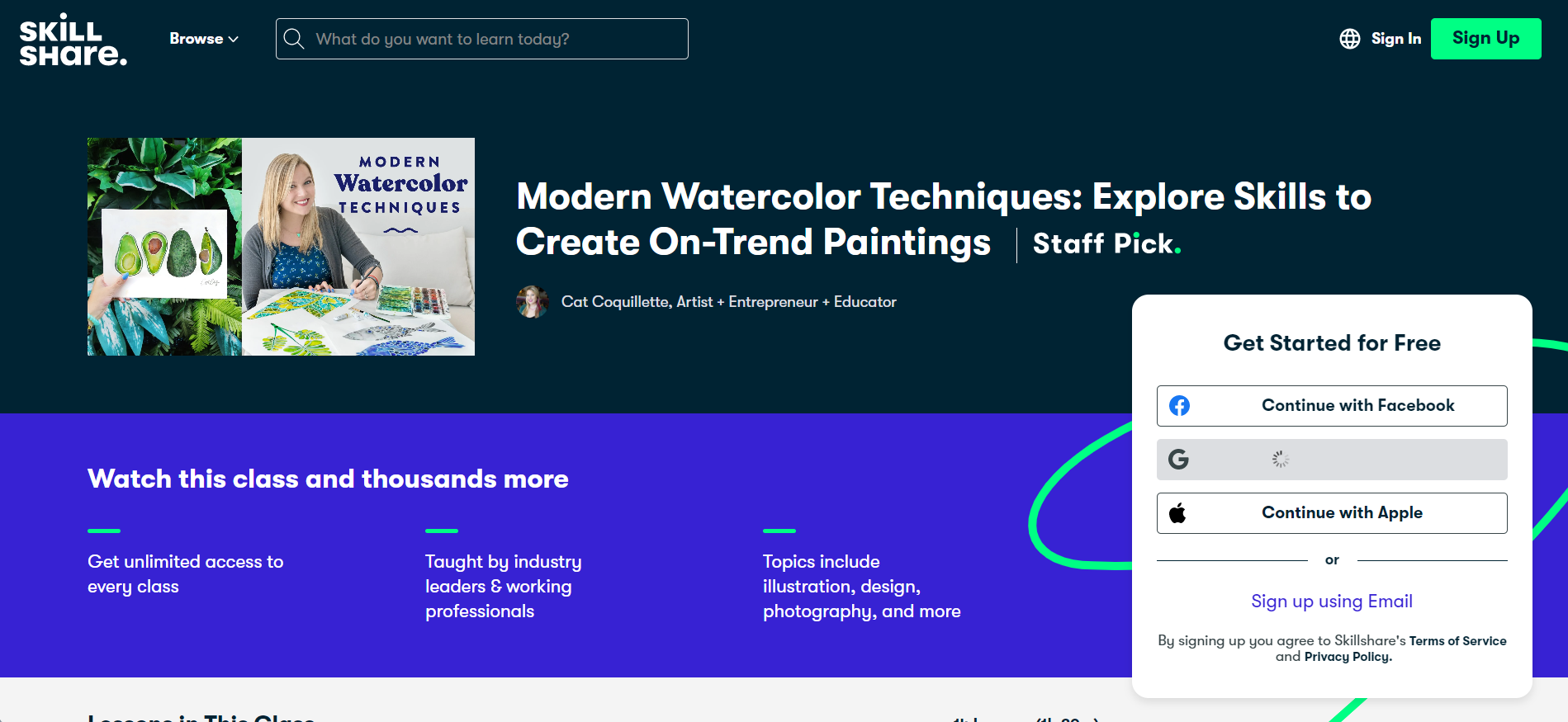 Discover contemporary painting techniques through this top-rated online course. This Trendy watercolor approach is one of the best online watercolor classes for learning how to paint in watercolor.
The instructor for this watercolor class is Cat Coquillette. As a well-known contemporary artist and businesswoman, she has sold more than a hundred thousand watercolor paintings worldwide in the past decade.
Her online watercolor portrait classes emphasize a contemporary painting style that can only be achieved using watercolors.
Here's what you get to learn if you enroll in this watercolor course:
Creating stunning color palettes.
The ability to control the brush to create beautiful strokes.
Art of combining colors on paper and keeping white space in mind while painting.
In addition, Cat reveals her secret for adding contemporary touches to her paintings in a unique bonus session.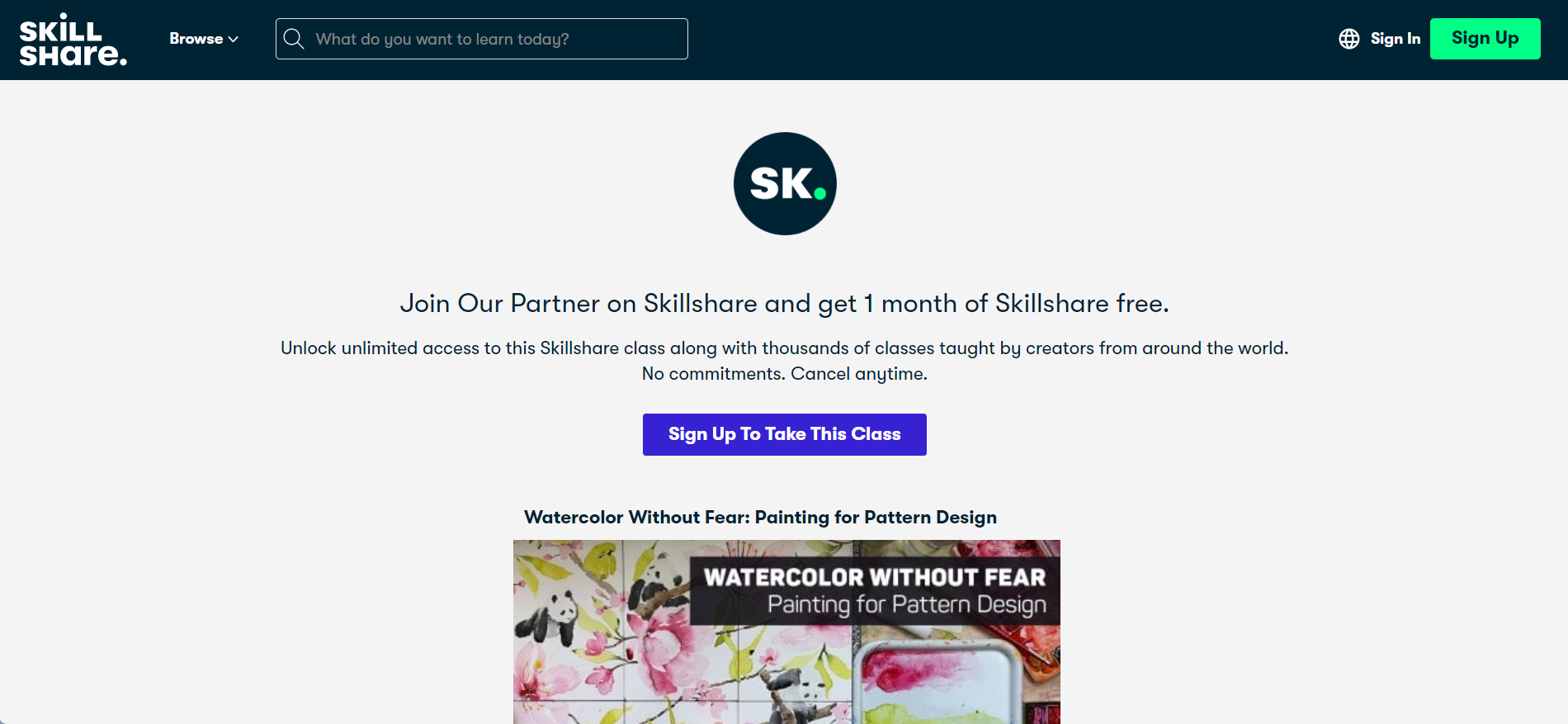 A patternmaking project is an ideal activity for anyone seeking a fresh challenge in their painting. Creating your own watercolor patterns to improve your skills is a great idea.
You could use this skill to produce one-of-a-kind wrapping paper or fabric for printing.
In this online watercolor class, expert pattern designer Catherine Jennifer Charnock explains how to create stunning repetitive patterns from your artwork. This course is for you if you're an intermediate artist looking to revamp your creative side.
This course is invaluable for anyone looking to improve their painting skills or experiment with pattern design.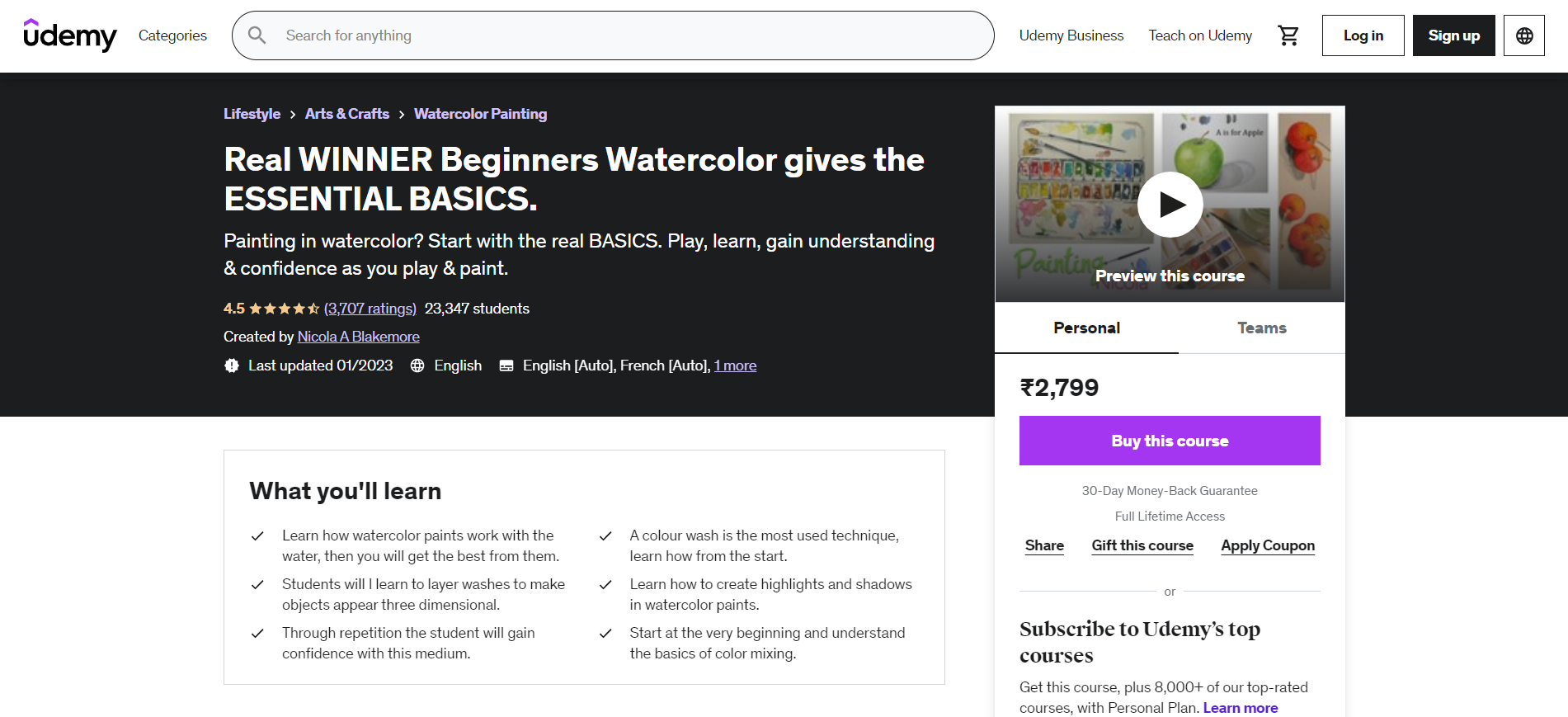 This Udemy course is excellent for those who are beginners. Trainer Nicola A. Blakemore brings her students a unique combination of teaching and advising, creating an atmosphere conducive to learning and development.
An apple painting exercise and a guide to making greeting cards can both help you improve your painting skills. The time spent on this course is well worth the investment.
The outstanding feature of this course is that it provides a solid investment return by teaching basic watercolor techniques. The course includes 4.5 hours of video and 32 downloadable resources.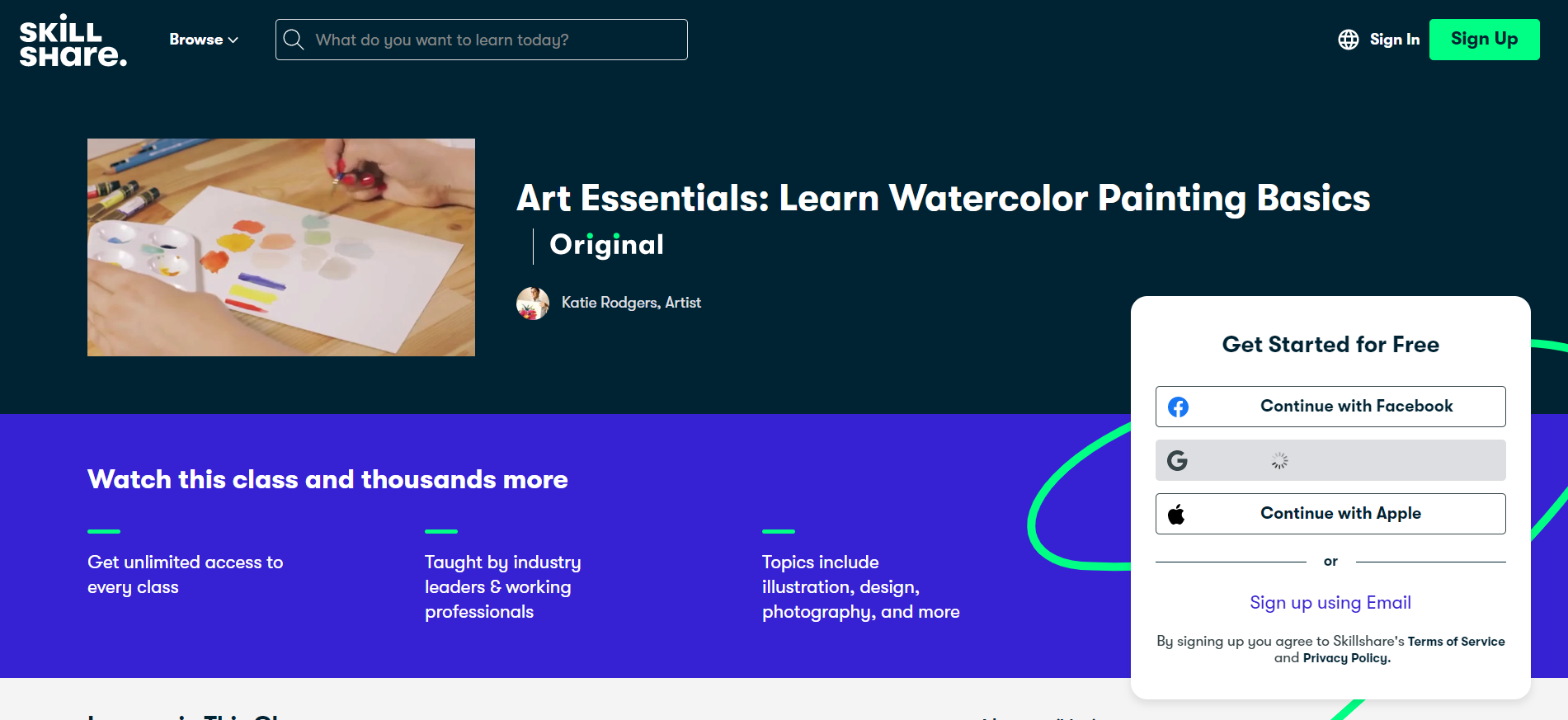 Art Essentials is one of the finest online art classes you can enroll in to learn how to use watercolor to create stunning designs and artistic work from the comfort of your home.
This course was created by Katie Rodgers, a fashion designer, writer, and creator of this impressive course.
She developed a series of six courses on watercolor painting to educate artists of all skill sets on how to use the medium for presenting.
This one-hour watercolor class will teach you;
The importance of having well-stocked paint supplies & mixing paints for maximum durability and color retention.
To find out which pencils and brushes will work best for you.
Techniques for creating unique textures, designs, and compositions.
Master watercolor painting by browsing through the 446 finished project files submitted by students before you.
Furthermore, Katie provides a wide range of free resources to download, including information on creating color palettes with any paint you own.
The minimal time commitment of this course makes it ideal for newbies.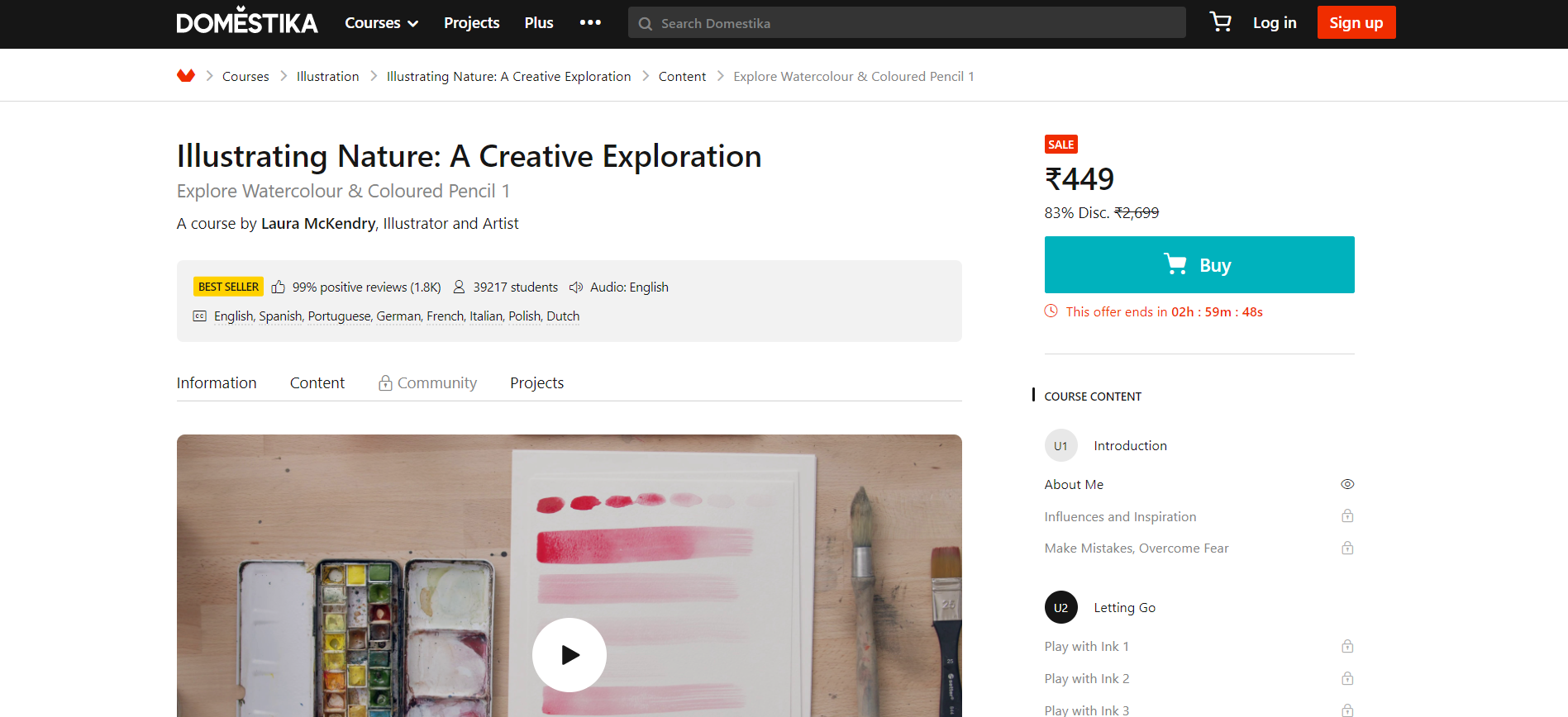 Illustrator and artist Laura McKendry demonstrate the basics of watercolor painting in this video tutorial, including how the medium works and how to blend colors. To add detail to your watercolor paintings, she will also show you how to use colored pencils.
Regarding watercolor, Laura believes there shouldn't be any rigid rules. Instead, she welcomes you to try new things with her and will show you the importance of a creative and joyful mindset toward the blank page.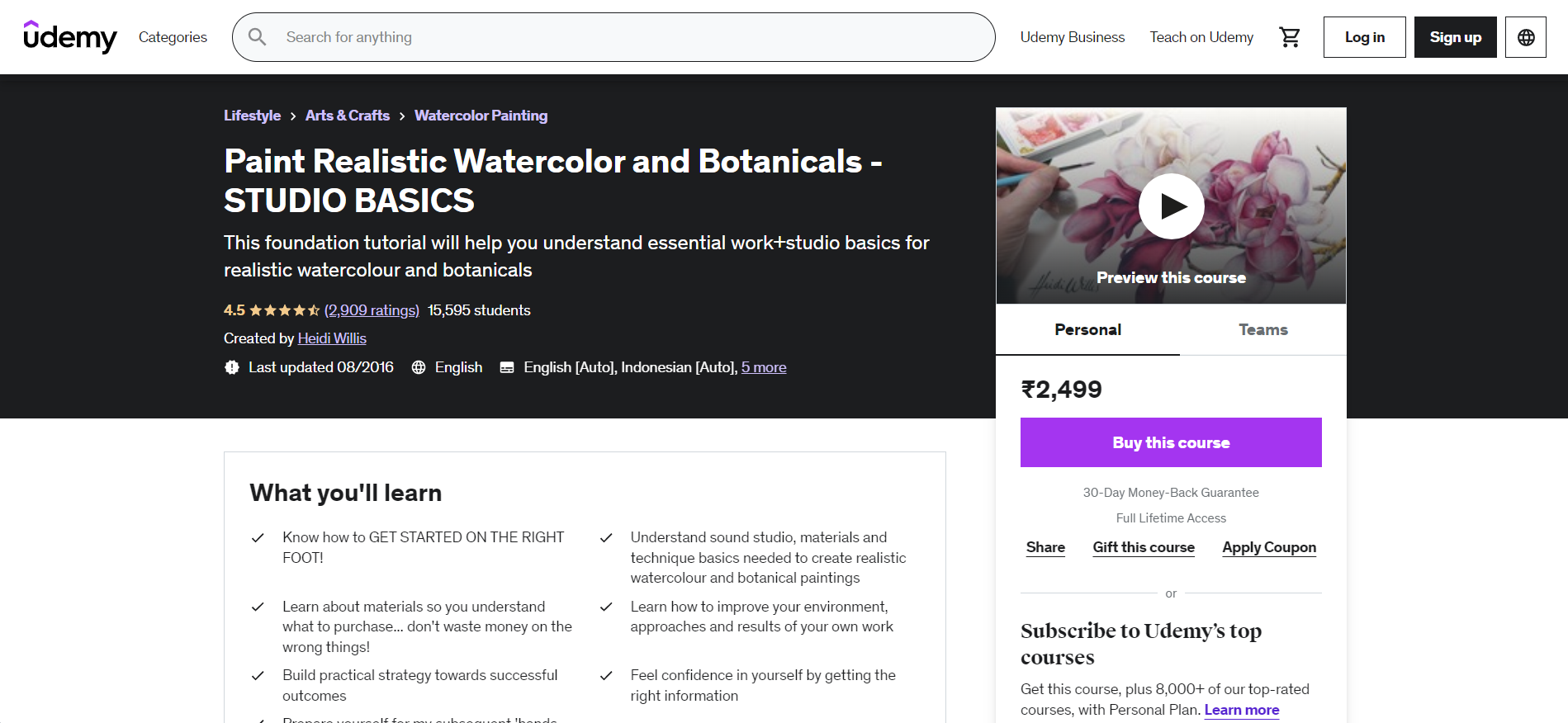 Mastering the art of botanical painting is an accomplishment in itself, and once you've accomplished it, the possibilities for your artwork are nearly limitless. This online watercolor class covers in-depth methods and resources necessary for creating your own floral watercolors.
A botanical artist, Heidi Willis, will guide you on everything from choosing the right tools to setting up your painting workspace.
Over three hours, you will watch engaging videos and complete valuable exercises. This course is designed for those who have picked up a paintbrush before, so if you already have some experience with watercolor, you'll get the most out of it.
Anyone with some painting experience, especially those who want to take their skills to the next level, will benefit from this course. Through this program, participants will gain access to valuable tips and insights. Besides the three hours of content, you can engage in some painting activities.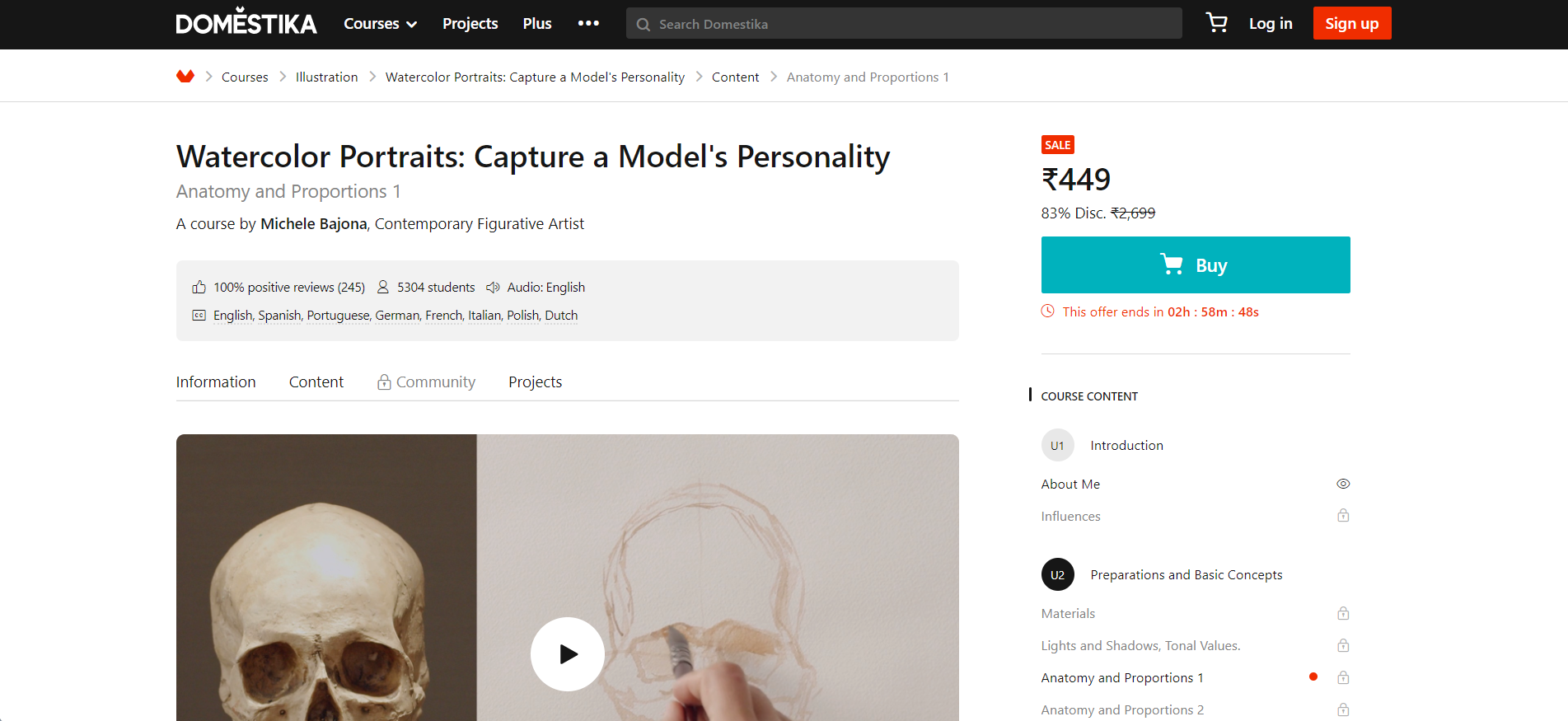 Seeing how the watercolors seamlessly fill the white space gives a sense of happiness. Michele Bajona, a modern figurative art expert, uses watercolor to create stunning portraits that reveal the true nature of his subjects.
Creating a more realistic portrait is relatively easy once you understand the skull's anatomy. This online watercolor classwill teach you how to paint a skull in frontal view by breaking down each step and explaining its significance.
As Michele walks you through the primary structural sketch, she shows you how to paint the shadows so you can see where the lights go.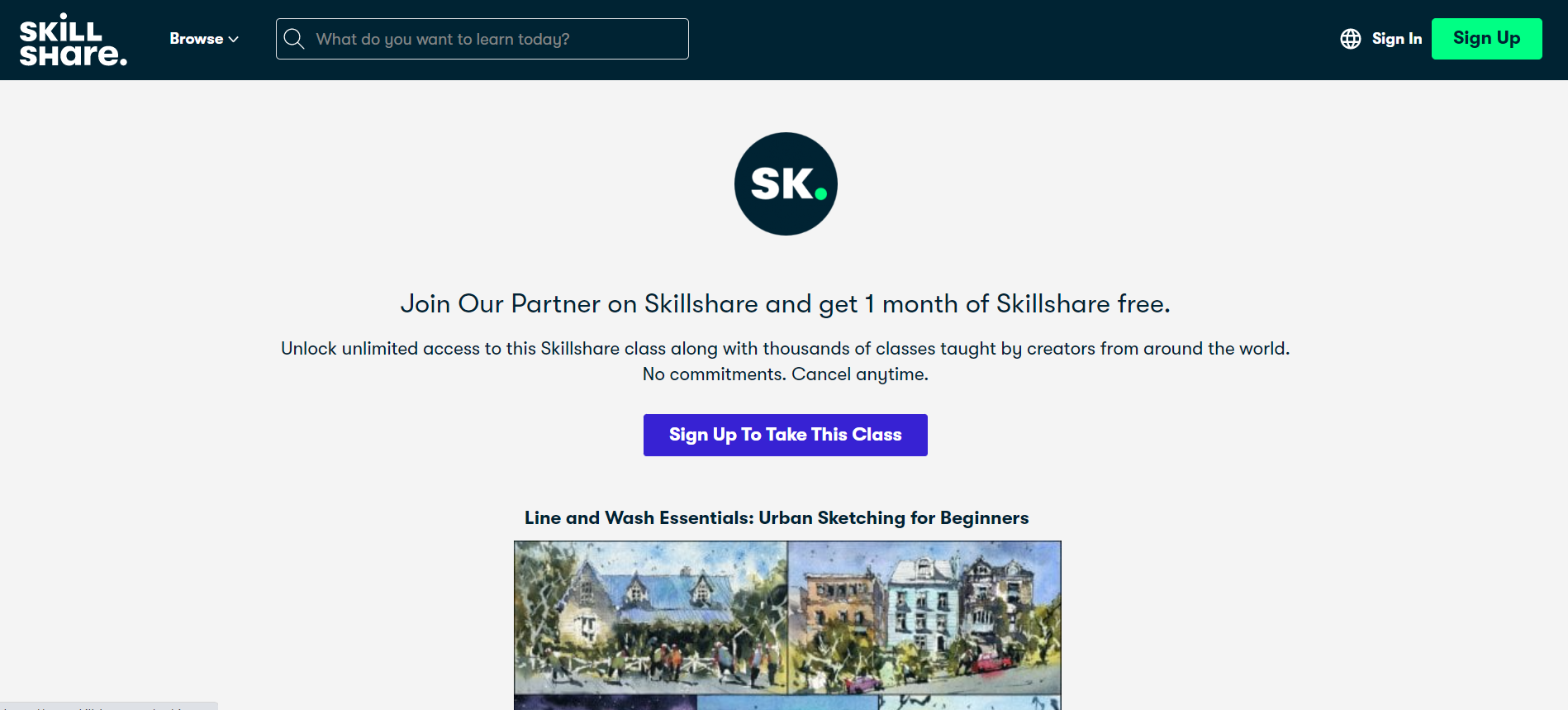 Landscape artists often use the line-and-wash method because it helps them portray a scene clearly and decisively. A line drawing combined with watercolor splashes could create stunning artwork.
This course will teach you how to effectively paint or sketch urban landscapes rather than traditional rural views with trees and valleys.
Throughout this online watercolor class, you'll attempt to paint various landscapes, each with unique challenges, from a shop to a castle. In addition, you will learn how to create a starry night sky and a blazing watercolor sunset.
This course has several notable aspects, including the introduction to the line and wash method, various innovative tasks, and a wealth of professional painting tips and tricks.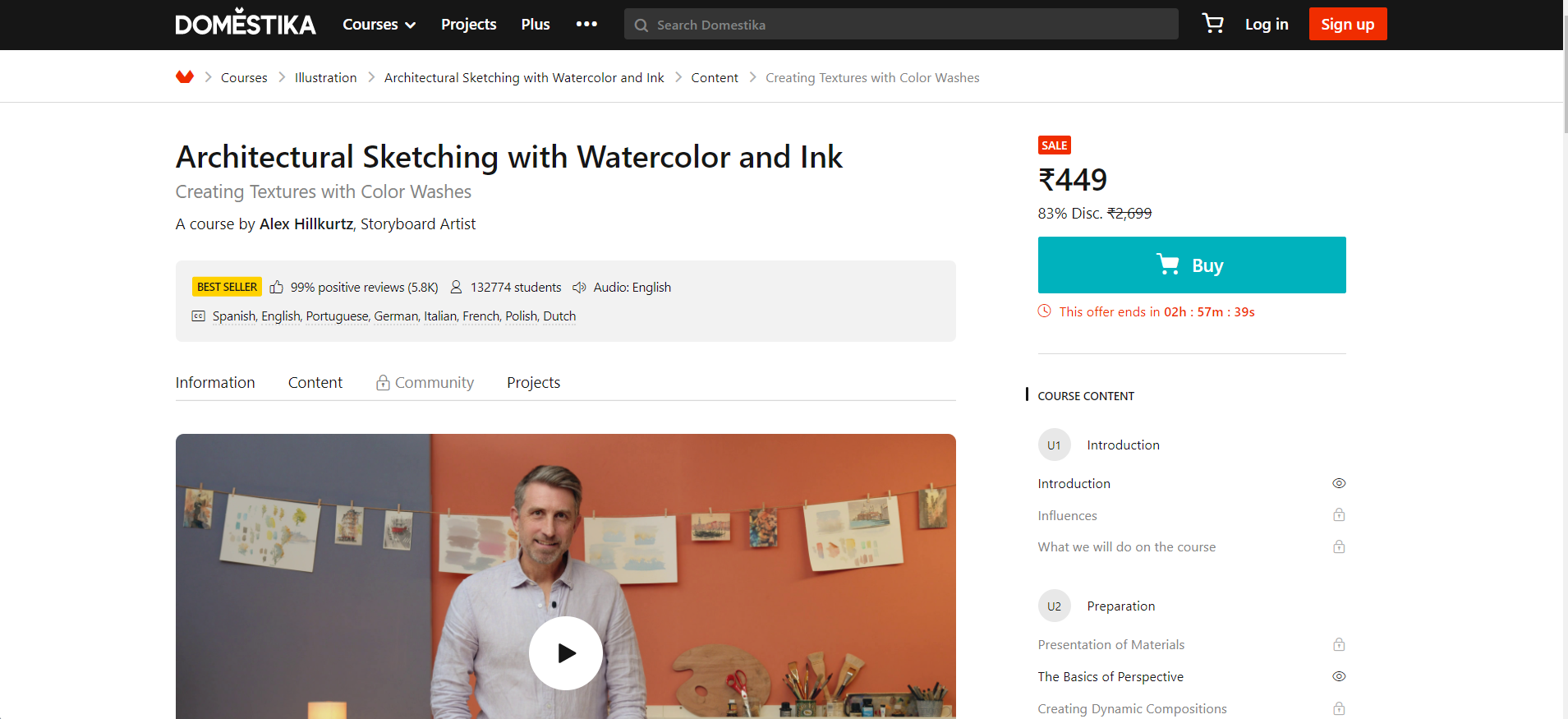 In this course, watercolor artist Alex Hillkurtz teaches a variety of techniques for achieving a wide range of textures with watercolor by using one color. As you experiment with wet-on-wet techniques, you will create a uniform wash on dry paper and a gradient wash for variation.
The course Architectural Sketching with Watercolor and Ink teaches all about these approaches in depth. Blend loose ink sketches with watercolors to create a stunning, three-dimensional building.
Bottom Line
Painting with watercolors is a skill that can be mastered through practice and dedication. These free watercolor online classes, which feature guidance from Master Creators, will be helpful if you devote some time and effort.
We hope our list of watercolor classes helped you find the right course to start your art career. Remember, the world is your source of inspiration, and you can take advantage of all their freedom and expression in your watercolor paintings!
There is no limit to what you can paint and where your imagination can take you. So pick a paintbrush and some paint, and let yourself be carried into a new, colorful world.
Frequently Asked Questions
How Much Money Do Watercolor Artists Make?
Lockdowns in 2020 led to an astonishing 300% increase in Google search results related to watercolor painting and techniques, as more people were restricted indoors during the lockdown. There was a rise in people deciding to make a shift in their lives and careers to follow their passions.
Similarly, Watercolor Artists in the United States earn somewhere between $19,140 to $99,140, with the middle 50% earning $46,460 on average. In the meantime, 80% of Watercolor Artists earn $99,140 a year. So, all in all, a watercolor artist can make more than a decent amount of money.
Is Watercolor Easier than Acrylic?
Acrylic paints are much easier to work with than watercolors. The margin for error is much more significant. As with any medium, mastering the basics of acrylic takes a lot of practice and research.
Many artists avoid watercolor due to the misconception that it is the most challenging medium to master. Compared to acrylic paint, it is more complicated and requires more practice to master.
However, you can learn to cover up, minimize, or work around your faults with practice.
There is a distinct feel and appearance to it. It is worth your time and effort to learn it. And with enough practice and a basic understanding of the tools and techniques, anyone can learn to paint in watercolors.