The schools were frustrated to learn the database that lists which applicants have a right to English instruction was unworkable.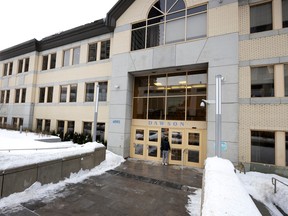 Article content
Quebec's English CEGEPs will get help sorting out which of their thousands of applicants hold English eligibility certificates, Quebec's Higher Education Minister Pascale Déry said Friday.
Article content
English CEGEPs are scrambling to prepare for changes ushered in by Bill 96, Quebec's newly strengthened language law that was passed last spring. As of next fall, English eligibility certificate holders studying in English at English-language CEGEPs must complete two French language-learning courses and three courses in their program taught in French, or complete five French-language learning courses. Those without English eligibility certificates will have to pass a French exam in order to graduate.
Article content
Not knowing how many of their applicants have the eligibility certificates is making it difficult for the English CEGEPs to put in place curricula and hire staff to be ready to help all students meet these new requirements.
Article content
The government had promised CEGEPs and private colleges would have access to an Education Ministry database that lists the names and permanent codes of students who have the right to an English education by March 1, the deadline for CEGEP applications.
While the English CEGEPs did finally obtain access to the database, called ANAN, on Tuesday, but when staff began using it, they discovered they would have to manually enter the permanent codes of each student applying to find out which have an English eligibility certificate.
For the largest CEGEPS, that would have meant manually entering the codes of thousands of applicants to find out which students have eligibility certificates.
"We're not going to work that way; it's not possible," Diane Gauvin, Dawson's director general told the Montreal Gazette on Wednesday. "There's risk of making a mistake. Thirteen thousand is not a reasonable number to do by hand."
Article content
The alphanumeric student code is composed of four letters and eight numbers.
CEGEP administrators from several institutions publicly expressed concern about the database this week and some, including Gauvin, contacted the education ministry to say the process was unacceptable. Ministry officials promised a solution by midnight Wednesday but that deadline came and went.
"It's March 1 and we don't have the information on who (has English eligibility) in an acceptable way," Gauvin said
Late Friday afternoon however, Higher Education Minister Pascale Déry issued a statement reassuring CEGEPs they will get the help they need, from the regional admissions office, to sort out which students have the certificates.
Article content
"The Minister of Higher Education has been informed and confirms that there is no technical problem with the database," she said in a written statement. "However, considering the limits of the system and the high volume of admission applications received by the colleges, the (Higher Education department) has established a partnership with the Service régional d'admission du Montréal métropolitain (SRAM) in order to support (the colleges).
"All establishments that request it will be offered a service to verify the eligibility of future students to learn in English in order to facilitate and speed up the process. This service is available to all institutions, whether public, subsidized private or non-subsidized private."
With files from Katherine Wilton
Here's what Quebec parents need to know about English eligibility certificates

English CEGEPs are concerned sweeping changes are being implemented too quickly

Vanier director wish is that Bill 96 can be implemented on a more realistic timeline than the one proposed